Director Ron Howard's upcoming movie, Rush,  about the 1976 Formula One season and the fierce rivalry between James Hunt and Niki Lauda (as well as Lauda's recovery from near fatal burns) will be released in September. Racing fans have been stoked to see this film, particularly because of Howard's reputation for authenticity as in his Apollo 13. Now that the film's official trailer has been put up on YouTube fans will be even more stoked. I don't think racing fans have been this excited about an upcoming film since Steve McQueen's LeMans in 1971. Something about the hype surrounding Rush has me thinking about similar movies in the late '60s and early '70s – though back then you saw articles in Popular Mechanics not on Jalopnik. LeMans was the last of three big budget, high profile films about racing with bankable stars that weren't big hits with the general public but were popular with racing enthusiasts because they broke new ground in filming on-track action. All three starred actors who are respected by car guys because they actually had racing chops.
First there was John Frankenheimer's Grand Prix starring James Garner. Still considered by some to be the ultimate racing movie, Frankenheimer used actual racing footage as well as staged action shot with a Ford GT40 camera car.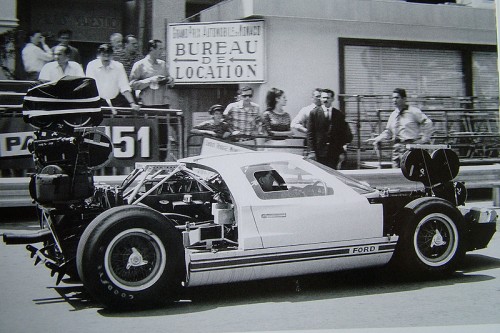 That was followed by James Goldstone's Winning in 1969, starring Paul Newman, another actor who got the racing bug after starring in a racing movie.
Finally there was McQueen's LeMans, directed by Lee Katzin, which delighted racing fans but turned off general audiences because it was so heavy on the racing and light on things like acting and dialog.
Grand Prix, Winning and LeMans are almost a trilogy to car racing fans. As a matter of fact, when I was checking on to see if they're still in print, Amazon told me that the three films are frequently bought together (along with the Senna documentary, no surprise there). All three have fairly realistic action footage. Frankenheimer set a high standard for realism that director Howard will now have to reach or exceed if Rush is to join the pantheon of great racing movies.