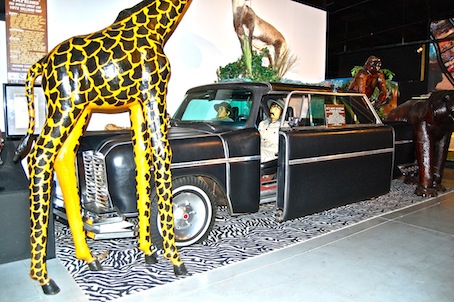 With the overwhelming success of his first automotive effort, the Ostentatienne Opera Sedan, Bruce Mohs decided to reinvent the automobile again in 1973 with the introduction of the SafariKar.  Though considerably more practical than its stablemate, the SafariKar takes a back seat to no one in terms of wackiness.
Long before there was a Cadillac Escalade or Lincoln Navigator, the SafariKar offered the discerning — and wealthy — sportsman the world's first luxury SUV.  Like the Ostentatienne, the SafariKar was based on an International Harvester truck chassis and sported tubular steel side safety beams.  Unlike that earlier car, the SafariKar had a door on each side but instead of hinges, the doors slid out on linear bushings and shafts.
The open doors revealed a spacious interior for eight passengers with three front bucket seats, a full-width rear bench and two mid-cabin jump seats for Sherpas or hitchhikers.  The rear seat could be folded into a bed for those extended forays into the Veldt and the rigid top could be retracted into the trunk when your expedition required an open car.
The body panels of the SafariKar were made of aluminum, but instead of paint, the exterior was covered with polyurethane foam and black Naugahyde.  The obvious advantages to this construction were quiet operation and easy maintenance.  After a long, dusty day on the savanna, just hose off the Naugahyde, wipe it down with some Armorall and you're ready for a parade.
The 5400 pound SafariKar was powered by an International 392 cid V-8 with power output described as "adequate".  At a suggested retail of $14,500, it was more affordable than the Ostentatienne but still didn't exactly take the market by storm as only about three of them were made.
Laugh if you want, but how many cars have you ever built?