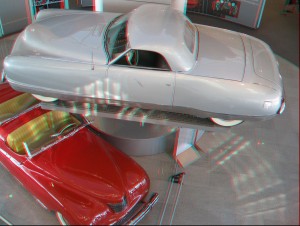 We recently had the opportunity to visit the Walter P. Chrysler Museum on the campus of the Chrysler headquarters in Auburn Hills. Somewhat overshadowed by higher profile Detroit area attractions like the Henry Ford Museum and perhaps overlooked by those thinking it's a single marque museum (like the Studebaker Museum in South Bend), actually because of the many car companies in the histories of Chrysler the company and the man, the WPCM is a very diverse automotive museum whose displays will find interest from just about any car enthusiast. Along with brands long associated with Chrysler, like Dodge, Plymouth and DeSoto, the museum also touches on Rambler, Nash, Hudson, Jeep and other vehicles brought into the Chrysler family after the acquisition of American Motors, as well as Buick and Maxwell, which Walter Chrysler managed before selling cars under his own name.
A gallery of more than 70 stereo images from the Chrysler Museum is after the jump.
Lately I've been reading about GM's Motorama cars and the Chrysler concepts of the same era, so it was a pleasant surprise to see the Chrysler Thunderbolt and Newport, Chrysler's first two concept cars, as well as the Chrysler Thomas Special, one of the spectacular Exner/Ghia cars on prominent display. In addition to two floors of state of the art displays featuring Chrysler history and cars, down in the basement, which the museum calls Walter's Garage, is an additional collection of muscle cars, race cars, legendary engines, and historically significant cars not currently on display upstairs.
The cars all appear to be in perfect restored condition. While the Walter P. Chrysler Museum will be of particular interest to Mopar fans, any auto enthusiast will find a visit there to be worth their time.
Click on the gallery below to launch a Flash player to view in multiple 3D modes or 2D.