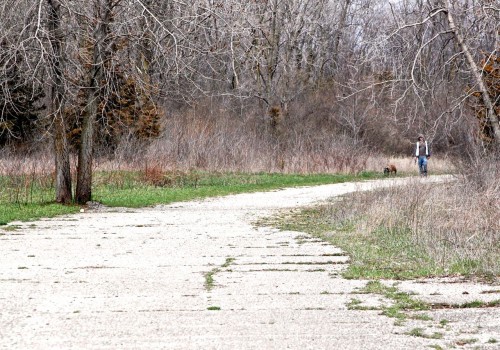 Pictured above is the ghost that haunts Raceway Woods outside Chicago
They say a ghost meanders through these woods. You can, in fact, see it in the photograph above. You don't have to squint or look really close and you don't have to click to view larger image.
The ghost is the crumbling asphalt you see winding through the trees. You're looking at the remains of the Meadowdale International Raceway, in its day one of the most challenging road courses in the country and one of the most controversial.
Leonard Besinger was a successful real estate developer who cashed in on the post-war boom by building subdivisions and shopping centers in suburban Chicago in the 1950s. His son, Leonard, Jr.*, was an MIT graduate with a degree in architecture who worked closely with his father to design and build Meadowdale Subdivision in Carpentersville, Ill.
Looking for a hook to entice people to move out to Carpentersville, Besinger hit on the idea of building a road racing track next to one of his residential developments. The Besingers visited race courses throughout the United States and Europe looking for inspiration for their own track and Leonard, Jr. set about designing Meadowdale International Raceway in 1958. The first races were held there later that year.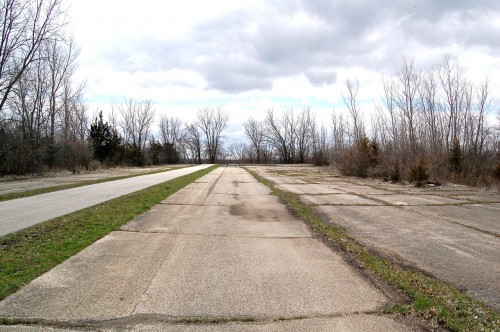 The start/finish of Meadowdale. On the right are the pit and paddock area, a 3-story grid tower was to the extreme right. Cars coming off the infamous, steeply banked (later flattened)  curve in the distance came shooting down this straight.
Meadowdale was plagued with trouble and controversy from the day it opened.
Built hurriedly – roughly six months from first shovel to first race day – numerous critical problems arose almost immediately. Drainage wasn't properly engineered and a creek at the north end of the grounds overwhelmed the culverts meant to channel it; landscaping which hadn't been given time to root allowed dust and dirt to blow around on dry, windy days causing a hazard for drivers and spectators; the track surface proved unstable and required frequent resurfacing.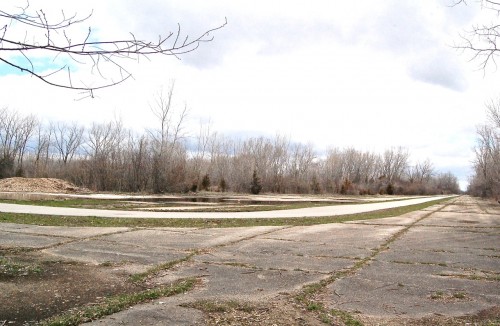 Start/finish and paddock area from the apex of curve. The straight on right was used for drag racing in later years. Spectator stands were to the extreme right in distance. Narrow pavement between tracks is a multi-use trail added more recently.
The design of the track itself posed serious challenges for both car and driver. A tight, steeply banked 180-degree curve required drivers to take it at a fairly high speed and then sling-shot down a straight. Another section of the track had drivers taking a tight curve on an uphill grade leaving them very short sight lines as they crested at the top while another included a difficult 90-degree turn.
In its September 28, 1958 edition Sports Illustrated had this to say about Meadowdale:
The course is 3.3 miles long—a series of ups and downs, twists and turns. "It's just dangerous enough to be interesting," said Driver Ernie Erickson after winning a race for smaller cars with his Porsche Spyder. "It's like piloting a boat on the Inland Waterway in a fog. You're out there looking for the buoys."
The Sports Car Club of America had serious issues with Meadowdale. At the time sports car racing was still a gentleman's sport and SCCA didn't care for the promotional hoopla that Besinger and his hired promoter, Sol Polk, brought to the operation. More importantly, SCCA, and particularly its Chicago chapter, was concerned about the safety of the track. Not only did it have almost diabolically difficult turns, little accommodation had been made for run off areas, a safety feature common on other road courses in the U.S.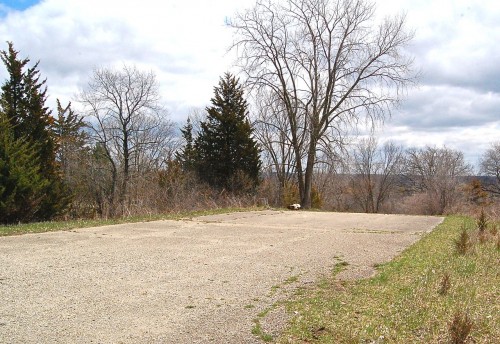 Drivers faced a curve just before cresting this rise and would sometimes "catch air" here, losing control.
Several of these issues led to the one fatality at Meadowdale, that of driver Robert Walker who was racing his #34 Ferrari on opening day. Coming down a back straight, Walker's vision was obscured by blowing dust and he lost control of his car at Doane's Turn, flipping it over. Walker suffered head and neck injuries and died on his way to the hospital.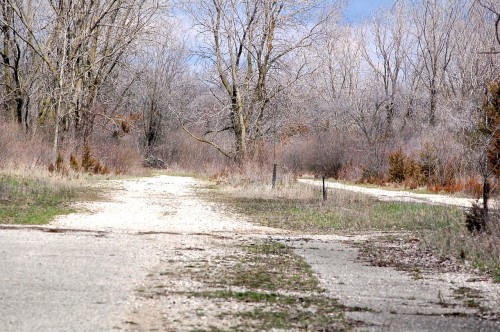 Driver Robert Walker lost control of his Ferrari along this straight and crashed a short distance beyond the trees in the distance. He later died.
Because of SCCA's reluctance to sanction races at Meadowdale after that first season, Besinger turned to the United States Auto Club so that he could feature nationally known drivers at his track. USAC races were more expensive to host, though, because the drivers were paid and large purses were offered to winners, something that SCCA at the time eschewed.
Despite large opening crowds – Besinger claimed 150,000 spectators at that first race, a figure that was probably inflated – Meadowdale's income couldn't cover its expenses. Besinger hired several different operators to manage the track and booked a variety of racing genres from stock cars to motorcycles and even some Formula Libre events, all to no avail.
SCCA agreed to return to Meadowdale in 1964 but only after substational improvements were made to the track eating up most of the profits that season. Meadowdale's last major event was an SCCA Trans Am race in July of 1968. That same year Blackhawk Farms Raceway opened outside of South Beloit, Ill., booking numerous smaller events that might otherwise have run at Meadowdale.
Besinger's race track closed for good in early 1969, just ten years after it opened.
The nearly 300 acre site, now called Raceway Woods, is owned and maintained by the Dundee Township Park District and the Forest Preserve District of Kane County and consists of numerous recreational trails. Much of the original asphalt track still remains and you can hike or bicycle the entire 3.27 mile race course.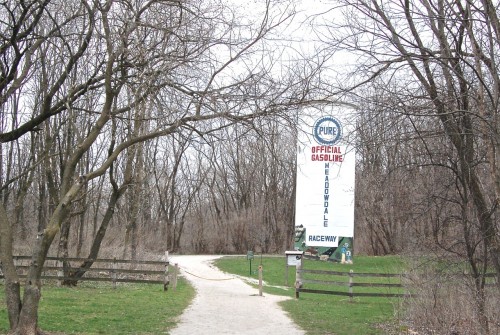 This silo existed long before Meadowdale was built.
Besinger (and Pure Oil) used it as a giant sign.
The only structure remaining on the site is a concrete silo that actually predated Meadowdale by at least a few decades. Besinger used it as a giant advertising sign and the restored structure is still easily visible from Illinois Highway 31.
The Meadowdale International Raceway Preservation Association is dedicated to preserving the history of the track and the Chicago Sports Car Club maintains a Web site that contains a wealth of information about Meadowdale including Ross Fosbender's detailed history which was the principle source for this post.
 _______________________________________________
 * Ironically, perhaps, Leonard, Jr. died in a car accident in New Mexico in 2011.