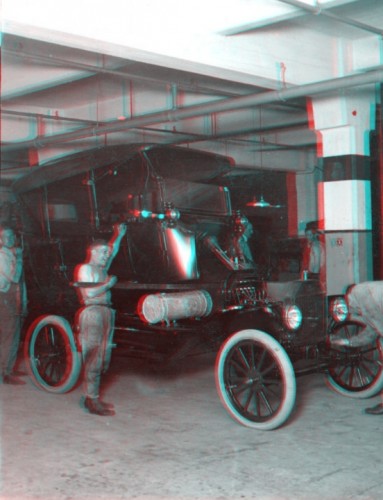 To view the entire photo gallery in 2D or your choice of stereo 3D formats, click here for a Flash player , here for an HTML applet, or here for an HTML5 viewer
We just showed you how a Model T comes apart with a view of the Henry Ford Museum's famous "exploded" car. Earlier, we featured images of Model T assembly from the Keystone Mast collection at the University of California – Riverside but after trying another term in their search engine I've found even more stereo images from what I believe is an entire series of photographs of the assembly line at Henry Ford's Highland Park factory, where he moved his operations to in 1910. Starting with manufacturing the fenders, wheels, springs, frames and dashboards, and then painting the bodies, you can then see frames being assembled, axles and other components added to the frames, the engine and transmission being lowered into place with the help of a block and tackle hoist, fuel tank and muffler added, and finally the "body drop".
Photo credit after the jump.
Keystone-Mast Collection, UCR/California Museum of Photography, University of California at Riverside. Please contact UCR/California Museum of Photography for information about the copyright status of this item. Some materials in these collections may be protected by the U.S. Copyright Law (Title 17, U.S.C.). In addition, the reproduction, and/or commercial use, of some materials may be restricted by gift or purchase agreements, donor restrictions, privacy and publicity rights, licensing agreement(s), and/or trademark rights. Distribution or reproduction of materials protected by copyright beyond that allowed by fair use requires the written permission of the copyright owners. To the extent other restrictions apply, permission for distribution or reproduction from the applicable rights holder is also required. Responsibility for obtaining permissions, and for any use rests exclusively with the user.