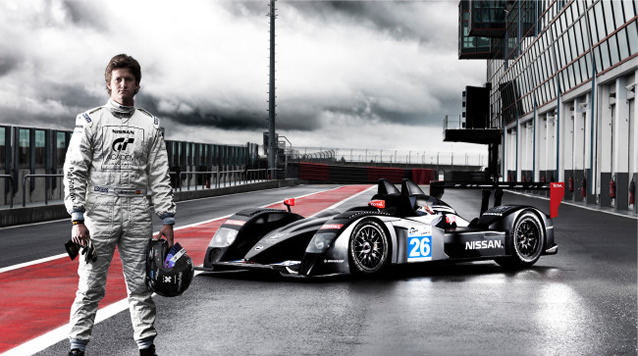 Lucas Ordoñez has come a long way since winning the first GT Academy back in 2008. After making his debut in a GT4-spec Nissan 350z at the Dubai 24 hours, he has since had two successful seasons in the European GT4 cup, finishing second and fourth respectively. In June he will reach what so far must be the pinnacle of his career: To drive the 24 Hours of Le Mans.
Lucas will be competing in the 2011 International Le Mans Cup in a Nissan-powered ORECA O3 LMP2 car, run by Team Signatech Nissan. He is no stranger to the LMP2 class, after competing in the Silverstone 1000km race last year. His performances there, in addition to the speed and race craft he showed in the GT4 cup, have earned him a drive that so many Gran Turismo fans will aspire to, and prove exactly what Playstation and Nissan hoped to achieve when staging the GT Academy.
Ordoñez is understandably excited by the prospect of getting this huge opportunity, here's what he had to say:
"It is beginning to sound a bit clichéd for me to keep talking about 'living my dream.' However, the past three years have been amazing and now to have been given the opportunity by Nissan to race at the Le Mans 24 Hours, as well as all the other fantastic races in the Intercontinental Le Mans Series, is incredible. I recognise that this is a big challenge and a great honour and I can't wait to get started at Sebring later this month."
Lucas will make his debut for Team Signatech Nissan on 19th March, when the Intercontinental Le Mans series kicks off at the Sebring 12 hours. Another six races will follow, including the 1000km of Spa-Fancochamps, and of course, the 24 Hours of Le Mans.
I can only wish the very best of luck to Lucas, and hope that he continues to show the great talent and speed that he has overwhelmingly shown up to this point in his short yet fruitful career.