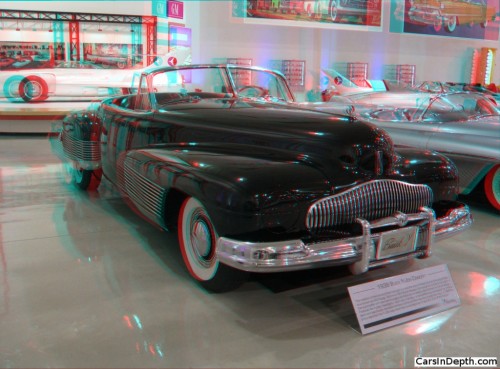 To view the entire photo gallery in 2D or your choice of stereo 3D formats, click here for a Flash player , here for an HTML applet, or here for an HTML5 viewer
The best part of writing about cars is the very cool car guy stuff that I get to do, like building a LS9 engine for the ZR1 Corvette, or watching a D Type Jaguar being driven off a concours' show field. Now ZR1s aren't exactly common and  D Types are indeed rare but even rarer are the one offs and prototypes like the Cord E-1 or Peter Mullin's Bugatti 64. A recent press event for Autopalooza, the umbrella publicity campaign for Detroit area car events, was held at GM's Heritage Center, where they display just some of the company's own collection of historic vehicles. Since GM loans out cars to museums and important car shows, you never really know what's going to be on display, but every car that is on display evokes a "but of course" reaction. They're all that significant one way or another. Still, when I saw that the Buick Y Job was in the back of the hall, near the Motorama cars, I made a beeline for it. The Buick Y Job is considered to be the very first concept car, the first car built by a car company just to try out ideas that might find their way into future products. As a matter of fact, Virgil Exner Sr. preferred to call his Chrysler/Ghia projects "idea cars". Before Exner built any concepts at Chrysler, Harley Earl was more or less creating the concept of a concept car in 1937 with the Y Job. GM stylist George Snyder did the actual design since Earl, a man who influenced American design well beyond the automotive world, ironically could not draw very well. He could, however, visualize what he wanted and could he communicate that vision to his designers, who put that vision down on paper, then in clay and finally in steel or fiberglass.
To view the entire photo gallery in 2D or your choice of stereo 3D formats, click here for a Flash player , here for an HTML applet, or here for an HTML5 viewer
The Y Job was started in 1937 and finished the following year. Though it technically was not revealed to the public until after World War II, Earl drove it around Detroit, using it as his personal car. It's a two-seater, built on a standard Buick chassis. Those two seats are in the middle of a rather large expanse of automobile, just shy of 20 feet. The Y Job was a low for its day, 58 inches at the top of the windshield . There were no running boards, and you can see the beginnings of an integrated envelope body, though the car still has distinct fenders. There's a distinct boattail in the rear end, something the Earl's protege, Bill Mitchell would put into production in the '63 Corvette coupe and the 1971 Buick Riviera. Brakes on the Y-Job used a novel bladder actuator instead of wheel cylinders. They must have worked because Earl drove the car until 1951. The Y Job has electric doors and windows and a power-operated electric convertible top that is stored under a panel when not in use. The Y Job was also one of the first cars to have power-operated concealed headlights, which flank a grille said to be inspired by the Mercedes W154 Grand Prix racing car. Today, bigger and bigger wheels are fashionable, but by the late 1930s, the move was towards smaller wheels. Remember, the Model T rolled on 21 inch artillery wheels. The Y-Job's 13″ wheels were Earl's equivalent of using an air bag suspension today. They make the car look low to the ground.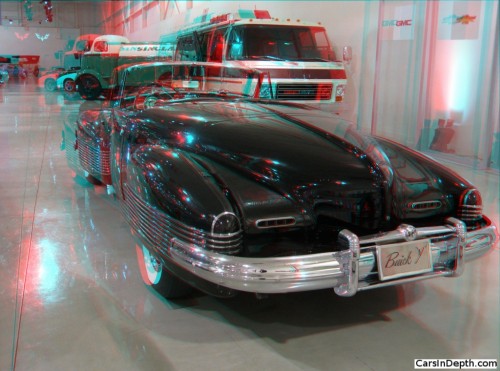 To view the entire photo gallery in 2D or your choice of stereo 3D formats, click here for a Flash player , here for an HTML applet, or here for an HTML5 viewer