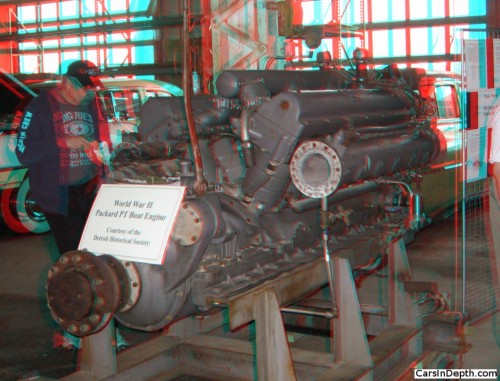 To view the entire photo gallery in 2D or your choice of stereo 3D formats, click here for a Flash player , here for an HTML applet, or here for an HTML5 viewer
Did you know that the fastest, most heavily armed (for it's displacement) fighting ship the U.S. Navy had in World War II was made out of wood and that not just its engines but also some of its guns were made in Detroit? The famed PT Boat may have bristled with guns, depth charges and torpedoes, but it had a wooden hull. Unlike earlier "Patrol Torpedo" boats, it was built with a hull design borrowed from racing boats so it could plane on the water's surface at high speed, up to 27 knots (~31 MPH) at the beginning of the war. That speed would be almost doubled by the end of the conflict. The idea was that a small, fast boat could attack larger enemy ships, using it's speed to get in range and fire torpedoes.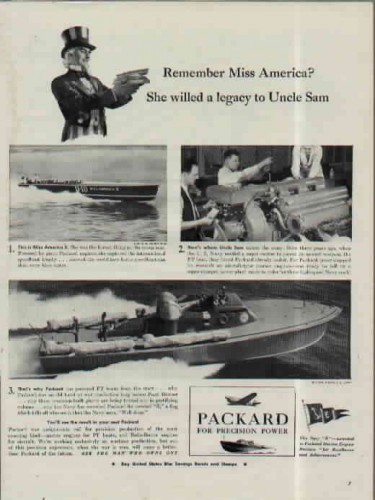 With a wooden hull the PT Boat was clearly more of an offensive, rather than a defensive weapon. It was armed with up to four Mk 8 torpedoes which had a range of about nine miles, two twin M2 .50 cal machine guns, and a 20 mm Oerlikon cannon mounted on the front deck, most likely made by the Hudson car company in their Detroit factory. Later in the war, additional Oerlikons were added to the aft. Some boats were also fitted with 30mm Browning machine guns.
Those Oerlikon 20mms were not the only thing on PT boats made in Detroit. They were powered by three Packard Marine liquid cooled and supercharged V12 engines. The 3M-2500 was a development out of Packard's version of the WWI "Liberty" aircraft engine, the 3A-2500. With a hull taken from racing boats, it was probably no coincidence that the Packard marine V12 was chosen to power the PT boat. The Packard V12 was boat racer Gar Wood's powerplant of choice for his Miss America Gold Cup racers.
With an initial power rating of 1,100 HP, Packard eventually was able to get a reliable 1,850 horsepower out of the 5M-2500 version of  V12 by the end of the war by using a larger supercharger and an intercooler. With 5,550 HP on tap, a fully armed and laden PT boat could do up to 50 knots. Packard didn't just supply engines to the Navy, the company operated the Packard Marine Engine School, sometimes known as the "Packard Engine College", in Detroit, training Navy personnel on the engine. This particular Packard PT boat engine was on display at the Packard Proving Grounds' spring open house a couple of years ago.
PT Boat videos after the jump, including footage of PT658, one of the few remaining PT Boats that is restored and operational.