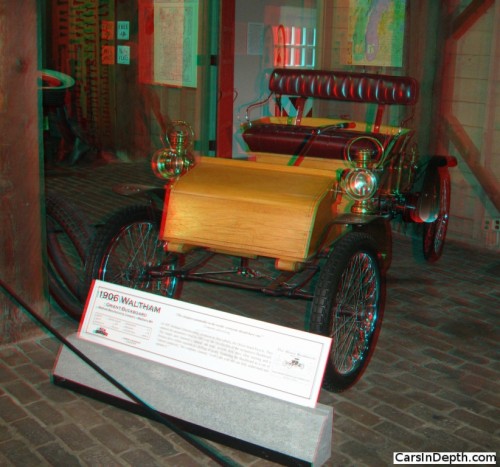 To view the entire photo gallery in 2D or your choice of stereo 3D formats, click here for a Flash player, here for an HTML applet, or here for an HTML5 viewer
One of the nice things about taking tens of thousands of photo pairs at car events and museums is that when a particular car comes up, I just might have some stereo images of that specific car. While doing some minor editing on Marty Densch's post about the 1906 Orient Buckboard by Waltham Manufacturing, it occurred to me that I'd seen one at the Gilmore Car Museum near Kalamazoo, Michigan. I checked my original archives from that visit and indeed I'd gotten a couple of shots of the Gilmore's restored Waltham Mfg. Orient Buckboard, also a 1906  like the one in Marty's post, it turns out. Waltham Mfg was a member of the Association of Licensed Automobile Manufacturers cartel. ALAM administered the Selden patent and claimed exclusive rights for its members to make automobiles. On the Orient Buckboard's dashboard is a brass badge indicating that it was made under license to the Selden patent. Henry Ford was sued by the ALAM soon after founding the Ford Motor Company in 1903. He'd applied for a license and had been turned down because of his plans to make an inexpensive car for everyman, not rich men's handbuilt indulgences. After an eight year legal battle Ford emerged victorious, mooting Selden's patent, paving the way for the explosive growth of the American auto industry.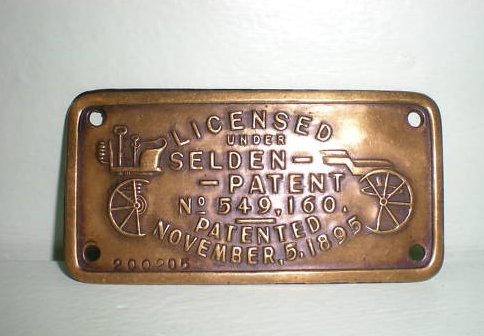 As Marty pointed out, the final drive on the Orient Buckboard used chains to transfer power to the back wheels. The Orient Buckboard did use chain drive but it was also advertised as having "friction drive" which was actually an early form of a continuously variable transmission made up of two friction wheels.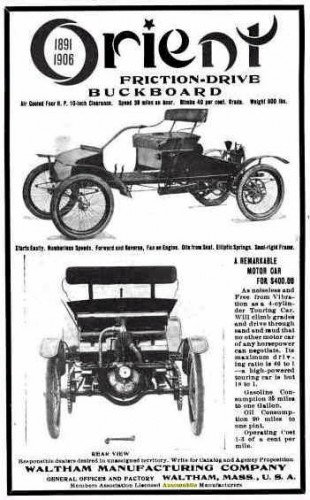 At neutral the driven wheel was centered on the drive wheel, or retracted. To move forward the wheels were engaged and to go faster, the driver operated a lever that moved the driven wheel farther out on the circumference of the driving wheel, effectively increasing the gear ratio between them. To reverse, the driven wheel was shifted to the other side of the drive wheel, rotating the driven wheel in the opposite direction.