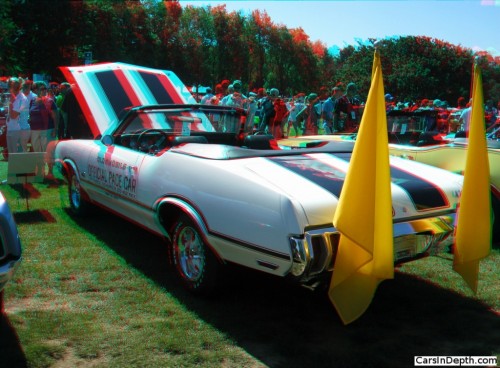 To view the entire photo gallery in 2D or your choice of stereo 3D formats, click here for a Flash player, here for an HTML applet, or here for an HTML5 viewer
Indy 500 "Pace car" models have three levels of authenticity. There are the "special edition" cars sold at retail dealers, essentially paint, sticker and trim packages, official replicas if you will. Next up the authenticity list are the courtesy cars with the same liveries but that were actually used a courtesy cars for race personnel during the event, like the Olds 442 in the previous post. Then there are the pace cars that the genuine article, cars that actually paced the start and led the race under caution. The last post had video of one of the Olds 442 convertibles used as courtesy cars for the 1970 Indy 500 race. This car is one of two 442 convertibles actually used as pace cars for year's competition. Jeff Stolowski, of Interlochen, Michigan discovered it as a $600 barn find, not realizing exactly what it was. He thought it was just another 442 convertible, though the grab handles in the rear passenger compartment were a clue that the car had been used for parade duty.
Stolowski thought he was buying a 1970 442, but a check at Oldsmobile archives in Lansing showed that it was the 1970 442, the #1 pace car from the Indianapolis 500. Following a meticulous restoration, Stolowski and his wife Johanna have put it on the show circuit. These photographs were taken at the 2012 Concours of America, where the Olds pace car was part of a display of one-of-one type muscle cars, like Pete Estes' Z/28 convertible and the original big block Shelby Mustang. The other authentic 1970 Indy 500 pace car also survived and it is owned by another Michigan collector, Ron Adams.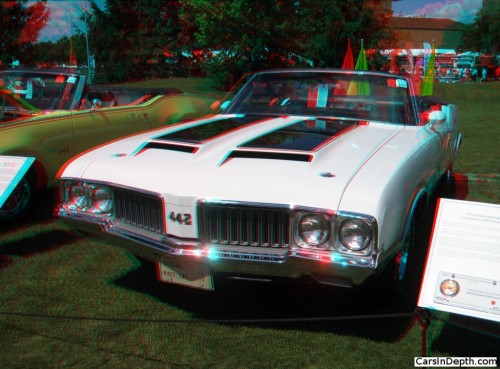 To view the entire photo gallery in 2D or your choice of stereo 3D formats, click here for a Flash player, here for an HTML applet, or here for an HTML5 viewer