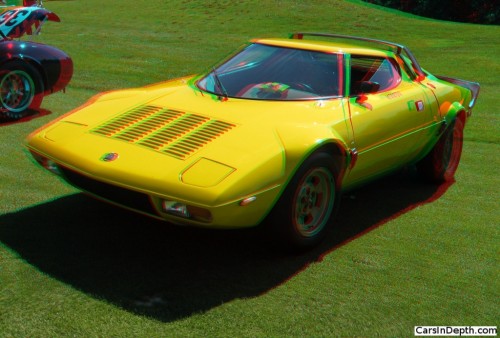 To view the entire photo gallery in 2D or your choice of stereo 3D formats, click here for a Flash player , here for an HTML applet, or here for an HTML5 viewer
Petrolicious does their usual beautiful job looking at artist Phillip Toledano's Lancia Stratos in the video below. It's a great excuse to show you this 1972 Stratos LF that was at the Concours of America last year. The Stratos was designed by the great Marcello Gandini, who also designed the Lamborghini Miura and Countach. With those three cars on his resume, I think the word great is perfectly appropriate. It's a stunning car in person, the essense of a midengine wedge design, and then it's got wild touches like the wraparound windshield and the basket handle spoiler at the roof's rear edge, something that you can appreciate a little better in 3D.
The Stratos came about because of Group 4 rules for the World Rally Championship. Manufacturers had to build 500 examples (the requirement was reduced to 400 in 1976) to compete and the schema ended up producing legendary cars like the Ford Escort RS1800 and the Audi Quattro in addition to the Stratos. The difference with the Stratos from those two cars is that other than the Ferrari Dino V6 engine, is that it wasn't a converted street car. It was a clean sheet design, purpose built to win the WRC, engineered mostly by racer Mike Parkes. The Stratos dominated that series, winning the championship three years running, 1974, 1975, and 1976, with Lancia works driver Sandro Munari at the wheel and Cesare Fiorio running the team. Lancia built 492 Stratos cars and while the car was designed to win the WRC, 200 street legal versions were made and sold. Many of those that raced were crashed – before the Dodge Viper the Stratos may have been the car with the reputation that it could kills – and many of the street cars rusted away, as you'd expect from Italian cars of that vintage, so this yellow Stratos is a rare car.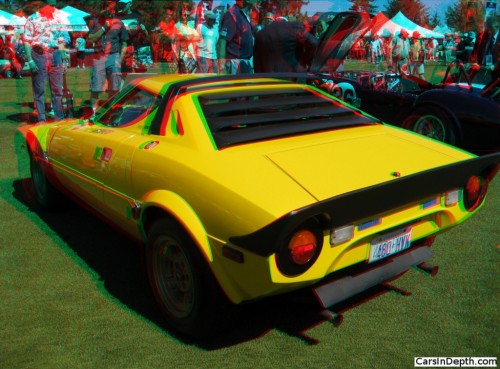 To view the entire photo gallery in 2D or your choice of stereo 3D formats, click here for a Flash player , here for an HTML applet, or here for an HTML5 viewer