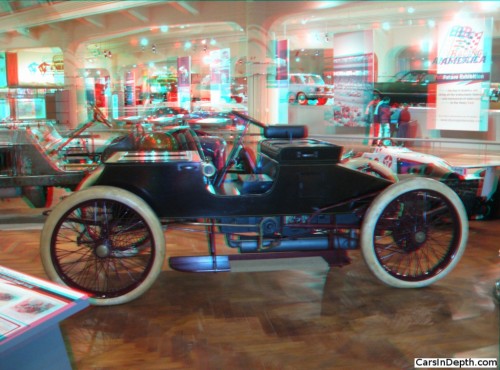 To view the entire photo gallery in 2D or your choice of stereo 3D formats, click here for a Flash player , here for an HTML applet, or here for an HTML5 viewer
This is the car that put Henry Ford on the road to success and it's the oldest Ford racing car, though it wasn't made for or raced by the Ford Motor Company. In 1901, Ford was a bit of a failure, having moved his wife and son back in with his own parents. In 1899, he left a secure career at Detroit's Edison Illuminating company to pursue his entrepreneurial dream of building and selling motor cars. Henry gathered investors who put up $150,000, making him the "mechanical superintendant" of the enterprise, the Detroit Automobile Company, which failed, like many automotive startups still do today. By 1901, Ford was desperate to start again. With one failure against him already, he needed to get credibility with investors and and consumers. Deciding to go racing, he hired engineers from his first failed automotive venture, including electrical whiz Ed "Spider" Huff, who may have invented the porcelain spark plug insulator for the project, and built a car that he named Sweepstakes, in honor of the upcoming race to be held at the horse track in Grosse Pointe. With two huge cylinders, the engine displaced 538 cubic inches and put out a whopping 26 horsepower, and it could propel the Sweepstakes to speeds of over 70 MPH.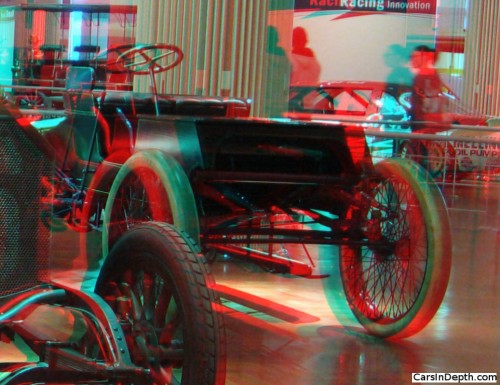 To view the entire photo gallery in 2D or your choice of stereo 3D formats, click here for a Flash player , here for an HTML applet, or here for an HTML5 viewer
Few thought that Ford had a chance against Alexander Winton, an experienced racer and arguably the most successful car maker in the United States at the time. Winton was racing with a much more powerful and most likely better engineered motor car. Ford's racer was primitive, the brakes were mostly an afterthought and the non-Ackerman steering (Ackerman steering had been in use in the carriage industry for 80 years by then) made it a twitchy handler. Still, luck was with Ford, and Huff. Like many early race cars, the Sweepstakes needed a ride-along mechanic, since it took more than two hands to operated the car. After at first falling behind by hundreds of yards, Ford started to gain on the Winton as it started to experience mechanical difficulties eventually passing on the main straight for the win.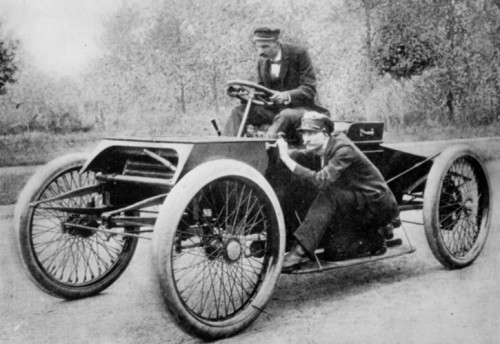 The race win got him the credibility he needed and found enough backers to start the Henry Ford Company. Ford's tenure there was very short as well, running up against his financial backers who disagreed with his plans for the company. The financiers brought in Henry Leland, of Leland and Faulkner, the leading machine shop in town. Leland was already supplying Ransom Olds with engines and transmissions and he suggested to Ford's backers that instead of liquidating, they should use one of his engines and sell motor cars, that the enterprise was viable. That company became Cadillac. Ford would go on to start the Ford Motor Company in 1903, vowing to never be beholden to financial backers. He also never raced again.
Recently, NASCAR racer Carl Edwards, who races in a Ford for the Roush-Fenway team, visited the Henry Ford Museum where the Sweepstakes normally is displayed in the museum's Racing In America section, part of the Driving America exhibit. Edwards got a special treat, getting a chance to drive the oldest Ford race car around the grounds of Greenfield Village. I think we can get an idea of why Henry stopped racing. Edwards, who makes his living going 200 MPH or more on NASCAR's fastest tracks, said that the Sweepstakes must have been "petrifying" at 75 MPH for Ford. It was probably even scarier for Huff, since he had to ride on the running board.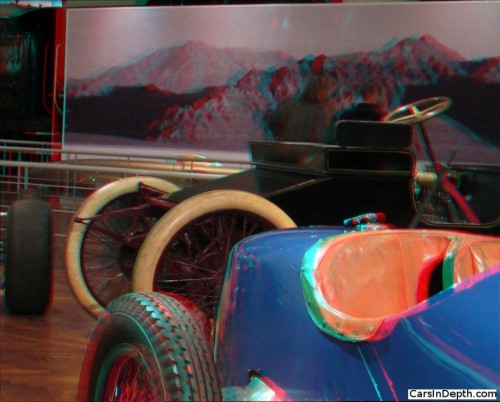 To view the entire photo gallery in 2D or your choice of stereo 3D formats, click here for a Flash player , here for an HTML applet, or here for an HTML5 viewer