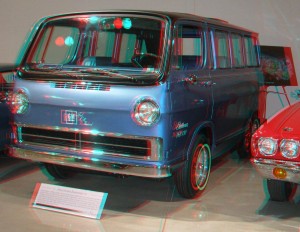 Click on the image to launch a Flash player to view the images in your choice of 3D or 2D formats.
Honda may have been first to actually put hydrogen fuel cell cars into the hands of consumers but back in 1966, while Honda's big seller in the U.S. was the nifty *Honda 50 motor bike, General Motors was cobbling together a workable fuel cell vehicle based on the stubby GMC Handi-Van.  Needless to say, that experiment did not produce a marketable fuel cell car.
3D & 2D photos and video of the Electrovan after the jump.
Fuel cell technology actually dates back to the mid-19th century and can employ a variety of substrates as diverse as phosphoric acid and hydrogen.  Hydrogen fuel cells have been studied by a number of car makers because of hydrogen's energy density, small carbon footprint, portability and relative safety (as least compared to compounds such as formic or sulfuric acid).
General Motors' fuel cell experiment was originally intended for the Corvair but engineers quickly realized that the storage tanks and other components would never fit in such a small vehicle so they turned their attention to the compact Handi-Van instead.  Though NASA was able to design fuel cells small enough to fit into the Gemini spacecraft, the greater output needed to propel a four wheeled vehicle called for a much larger system of tanks, tubing and electrical controls that almost completely filled the cargo area of the Handi-Van, turning it into a two-seater.
Hydrogen storage and handling is fairly safe today but in 1966 there hadn't yet been any experience with it as a transportation fuel and GM never took the Electrovan outside the confines of its proving grounds.  In fact, a significant explosion did occur while GM was testing the Electrovan which sent shrapnel flying up to a quarter of a mile, though no one was injured.
As an engineering exercise, the Electrovan was fairly successful.  GM achieved the performance they were looking for and the fuel cells provided an acceptable range of about 120 miles but the project was never meant to lead to a production vehicle.  Concerns over safety probably could have been addressed with further development but the vehicle would have been incredibly expensive and with gasoline plentiful and cheap, you just couldn't make a case for the technology.
Start the video, pause, then click on the 3D button in the menu bar to select 3D or 2D format.
* The Honda 50 "Super Cub" is the best selling motor vehicle in history, with over 60 million produced and sold.