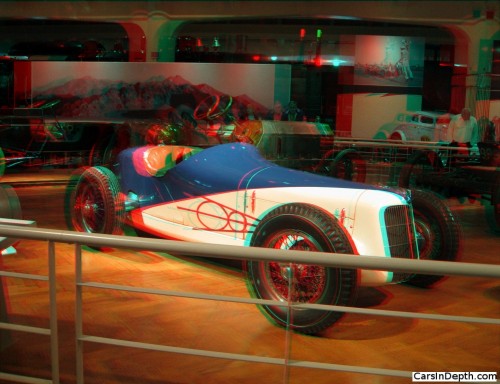 To view the entire photo gallery in 2D or your choice of stereo 3D formats, click here for a Flash player , here for an HTML applet, or here for an HTML5 viewer
Our last post featured Henry Ford's first race car, "Sweepstakes", whose success in 1901 laid the foundations for Ford's success as an automaker. In 1901, Ford was hungry for success. By the time this Ford racing car was raced, Henry was a very wealthy and powerful man, used to success. Unlike the Sweepstakes, it didn't win a race. As a matter of fact, its failure in 1935 kept Ford Motor Company out of racing for decades. It's not clear exactly who approached who, Henry Ford or Preston Tucker, there are differing accounts, some say that it was Tucker's idea to run the then new Ford V8 at Indy and that it was to Edsel Ford, not Henry, that Tucker pitched the idea. Either way, the Fords agreed to pay Tucker and Indy 500 legend Harry Miller $7,500 a car for ten race cars.
On paper everything should have been fine. Tucker was a fairly decent engineer in his own right and Miller had a role in just about every successful car at Indy for much of the 20th century. Add Henry Ford's money and the technical resources at FoMoCo and the cars should have been successful. Miller came up with what were the most technically advanced racers that Indy had seen yet, with front wheel drive and independent suspension at all four wheels. I haven't been able to find out just who designed the bodies or came up with the lovely white and blue paint scheme and Ford V8 logo graphics, but Miller's FWD Flathead Fords were also some of the most drop dead gorgeous race cars ever built. An early attempt at streamlining, the car just looks like a racecar should look. The front wheel drive layout, with the flathead V8 flipped around, allowed for a very low and sleek car. Even the Ford V8 logo painted on the car's flanks says "speed" – turned on its side the logo like an arrow pointing forward.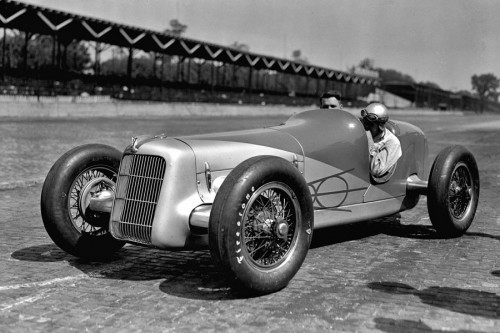 Unfortunately, good looks and advanced technology don't always add up to winning. The project was started late since the contracts with Ford weren't signed until February of 1935. Delays in getting equipment meant they had just two months to build and test the cars. While there were 10 cars finished, there wasn't enough time for proper development. Only 4 cars qualified for the race, all back in the pack in 26th, 27th, 29th and dead last in the 33rd spot on the grid. Because they hadn't done much testing, Miller didn't realize there was a design flaw, the steering box was too close to the exhaust manifold. All four cars dropped out of the race when heat caused the steering to seize. The highest placed Miller Ford was 16th, completing 145 laps. The other three cars didn't even make it halfway.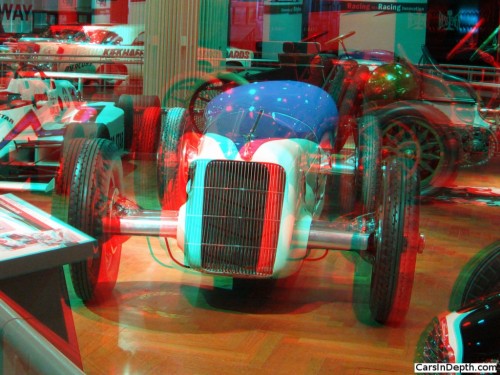 To view the entire photo gallery in 2D or your choice of stereo 3D formats, click here for a Flash player , here for an HTML applet, or here for an HTML5 viewer
Ford's publicity team had made a big deal out of the effort, even getting a Ford V8 selected as the pace car. The car had shown promise and with Miller and Tucker on the project, they probably could have been developed into competitive racers but Henry Ford was embarrassed by the very public failure of a high profile publicity stunt. Ford Motor Company would not officially return to organized racing until after Henry Ford's death in 1947.
This Miller Ford Indy racer is part of the Racing In America display at the Henry Ford Museum.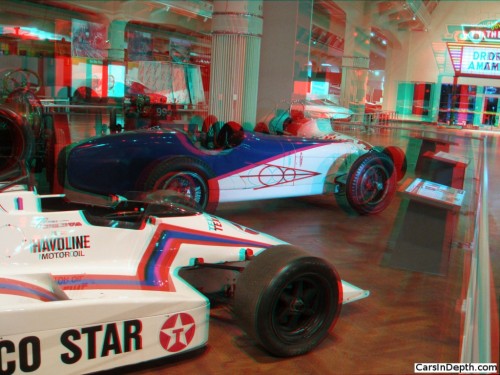 To view the entire photo gallery in 2D or your choice of stereo 3D formats, click here for a Flash player , here for an HTML applet, or here for an HTML5 viewer