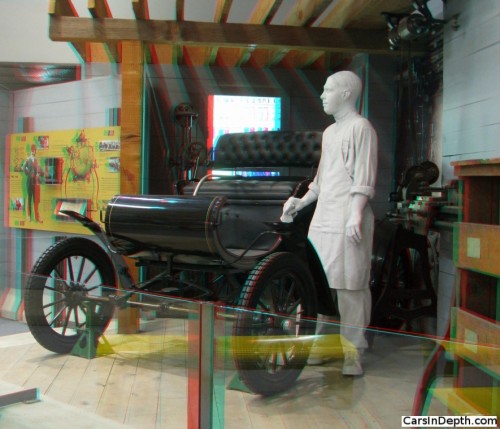 To view the entire photo gallery in 2D or your choice of stereo 3D formats, click here for a Flash player , here for an HTML applet, or here for an HTML5 viewer
One hundred and sixteen years ago today, on Aug. 21, 1897, the Olds Motors Works was founded in Lansing, Michigan by Ransom Eli Olds. After some success, Olds moved his works to Detroit, on Jefferson near Belle Isle, but a fire in 1900 destroyed the factory and all but one car, a small one cylinder model with a stylish curved dash. When that car was displayed at the New York Auto Show under the Oldsmobile brand the following year, it was a big hit. Olds built a new factory in Lansing and started to mass produce the little car in 1902. Three years later, the curved dash Oldsmobile was popular enough to have inspired the first of many popular songs about cars, "In My Merry Oldsmobile" with music by Gus Edwards and lyrics by Vincent P. Bryan.
The curved-dash Oldsmobile was the first American car to be produced using the progressive assembly-line system, more than a decade before Henry Ford would implement it at his Highland Park factory. The Oldsmobile was also the first American automobile to be a commercial success. As was often the case in the early days of the auto industry, with entrepreneurs needing investors but resenting their influence, Olds soon split his board of directors over the direction of the company. The dispute was over what kind of cars Oldsmobile would produce.  As with Henry Ford at the Henry Ford Co. and the early Ford Motor Co., Olds wanted to make smaller, more affordable cars, while his backers favored the production of larger, more expensive motor cars. In 1904, Olds left to start the Reo Motor Car Company (for his initials, R.E.O.), later more famous for making trucks.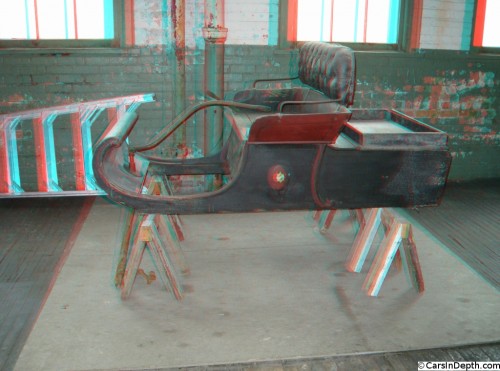 To view the entire photo gallery in 2D or your choice of stereo 3D formats, click here for a Flash player , here for an HTML applet, or here for an HTML5 viewer
After R.E. Olds left Oldsmobile, the company struggled, and in 1908 it was bought by Billy Durant as part of the new General Motors. Besides founding Oldsmobile and Reo, Ransom Olds had an important and seminal role in the creation of the American automobile industry. It could be argued that Olds' patronage of Henry Leland and the Dodge brothers' machine shops, which supplied him with engines and transmissions, was instrumental in Leland and the Dodges' later automotive enterprises. After supplying Olds, the Dodges cast their lot with the new Ford Motor Company, supplying Ford with most of its mechanical components, even complete rolling chassis, before starting their own car company in 1914. Leland also supplied Oldsmobile and when he was brought in by the backers of the Henry Ford Company to appraise its assets prior to liquidation in 1902, he convinced them to use those assets to start Cadillac. Later, after a disagreement with Durant, Leland would leave Cadillac to found Lincoln.
The wooden body of a curved-dash Oldsmobile was photographed at the Piquette Avenue Model T factory in Detroit.  The little Oldsmobile in a museum setting is in the collection of the Henry Ford Museum and the one pictured in a diorama representing Ransom Olds' workshop is on display at the Detroit Historical Museum.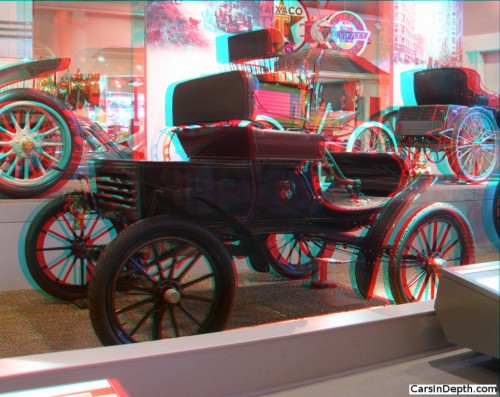 To view the entire photo gallery in 2D or your choice of stereo 3D formats, click here for a Flash player , here for an HTML applet, or here for an HTML5 viewer