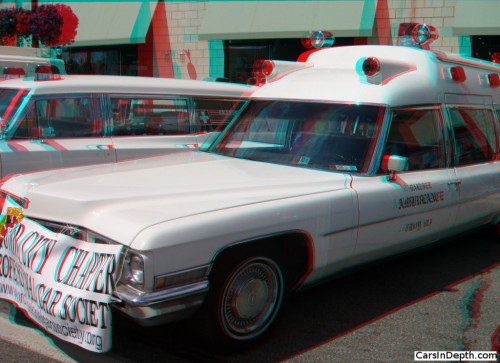 To view the entire photo gallery in 2D or your choice of stereo 3D formats, click here for a Flash player , here for an HTML applet, or here for an HTML5 viewer
According to the Professional Car Society,
A professional car is loosely defined as a custom-bodied vehicle based on passenger car styling and used in the funeral, rescue or livery services. Such vehicles may be hearses, flower cars, service cars, ambulances, limousines, or cars which are specially built to combine two or more of these functions, such as combination hearse-ambulances, sedan ambulances, or invalid coaches.
Luxury car makers like Cadillac and Packard made special professional car chassis and sold them to companies like Henney, Superior and Miller-Meteor who would then add their own body components to make ambulances and hearses, or as we've seen, hearse-ambulances. Thanks to the Motor City chapter of the Professional Car Society, whose members brought out most of these ambulances, people attending the Emergency Vehicle Show got a chance to see what ambulances looked like before medical needs like advanced life support meant the ambulance industry moving to truck platforms.