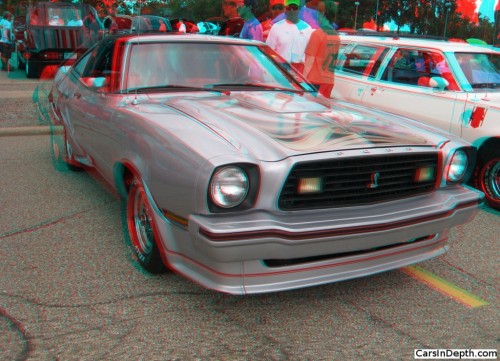 To view the entire photo gallery in 2D or your choice of stereo 3D formats, click here for a Flash player , here for an HTML applet, or here for an HTML5 viewer
Contrarians that we are around here, it's no surprise that we're fans of the the Mustang II, the Mustang even Mustang lovers ignore (or worse). I have a piece running on TTAC this weekend about the Mustang II and how Ford is actually giving the car some publicity as part of the year-long celebration of the Mustang's 50th anniversary next April 17th.
Perhaps the Mustang II that gets the most derision are the King Cobra models from 1978. The main knock on the Mustang II is that it was a derivation of the platform used to make the Ford Pinto. Since the Pinto is one of those cars that perennially shows up on worst cars of all time lists (slightly unfairly, I believe) the Mustang II gets tainted by the association, but as Mustang II enthusiast, and Ford Racing employee, John Clor likes to point out, there is more of the Ford Falcon in the first generation Mustang than there is Pinto in the second generation car. Still, to give you an idea of how the car is regarded, at the Mustang Owners Club of Southeastern Michigan's Mustang Memories show there were about 1,000 cars, about 80% of them Mustangs of every variety you could think of, but there was only one Mustang II that I could find, this silver one.
The knock on the King Cobra was that it was a faux-Cobra, a ridiculous agglomeration of late '70s styling cliches like T-tops, louvers and huge graphic decals. Calling it the "King" Cobra was a bit over the top,  but the simple truth is that it came with a V8 ("a v8 on a go cart" as the Drive By Truckers' song, Daddy's Cup, goes) and it was one of the fastest cars you could buy in 1978. Of course "fast" was a relative term in 1978. It was the nadir of the Malaise Era, when Dodge Aspen Super Coupes were faster than Camaro Z28s, Firebird TransAms and L82 Corvettes. Still, it could do 0-60 in less than ten seconds.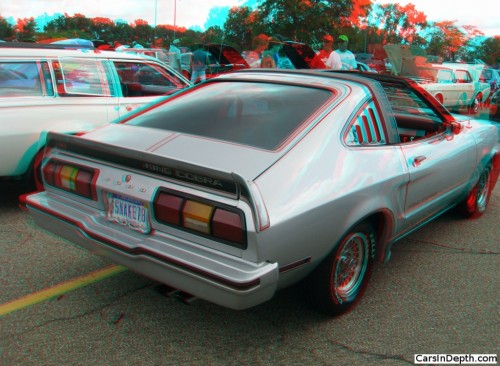 To view the entire photo gallery in 2D or your choice of stereo 3D formats, click here for a Flash player , here for an HTML applet, or here for an HTML5 viewer