In my post from Mustang Alley at the Woodward Avenue Dream Cruise, I included photos of a 1971 Mustang Grandé that, being a high zoot model, bore that affectation of luxury so common in that era, the vinyl roof.  Even for cars aimed squarely at the performance oriented buyer, vinyl roofs were the symbol of a well-optioned car and appeared on everything from Cadillacs and Lincolns all the way down to lowly Plymouth Dusters and Rambler Americans (though not Hurst SC/Ramblers).
At last weekend's Fall Jefferson (Wis.) car show notable examples of this lost symbol of indulgence could be seen everywhere, even in some unexpected places.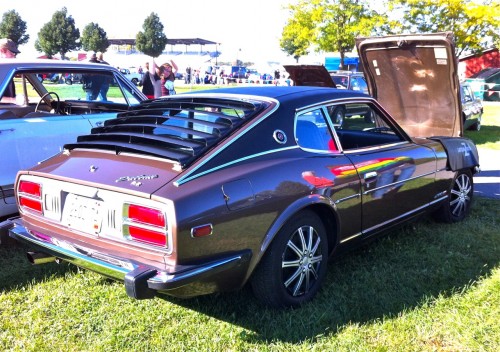 I seem to remember seeing Datsun Z cars sporting fake lizard skin much like this one, back in the day.  I would have assumed that these were pasted on by greedy dealers looking to pad out their margins, and they may have been, but in a discussion on an Australian Z car fan site, a commenter not only insists that a vinyl roof option was factory authorized, he even posts a factory part number for the "Leather Top".    He speculates that the part was sourced in the country of destination and offered as a dealer installed option for customers who requested it (and probably for some who didn't).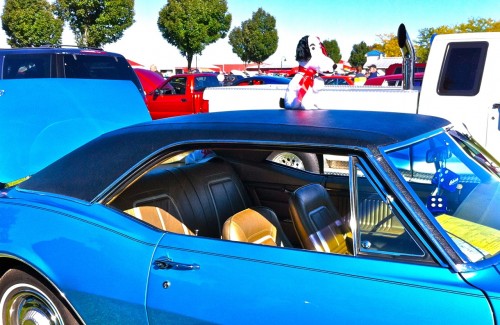 Vinyl roofs are frequently seen on early Camaros and Firebirds and, arguably, add a handsome touch to these sporty little compacts.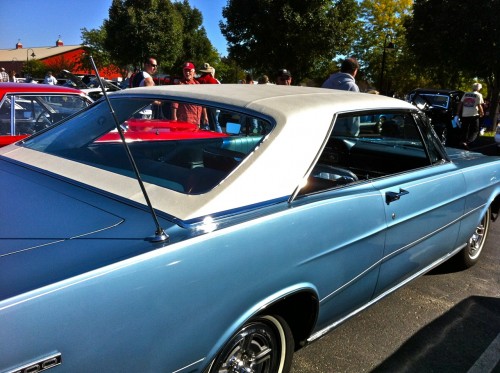 Full size Fords in the mid-1960s didn't always come with vinyl roofs and four-door hardtops were probably more likely to wear them than the two-door fastbacks.  This '66 Galaxie looks a bit more formal and less sporty with one.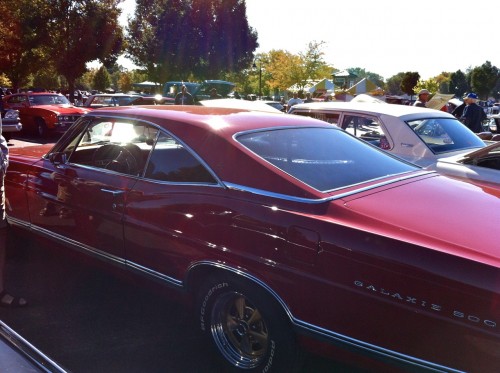 This '67 Galaxie probably left the factory with a vinyl roof, given the chrome trim at the base of the C pillar, though the trim would have appeared on a car with a two-tone paint job as well.  Someone likely removed the vinyl during a restoration and decided that the car looked better without it.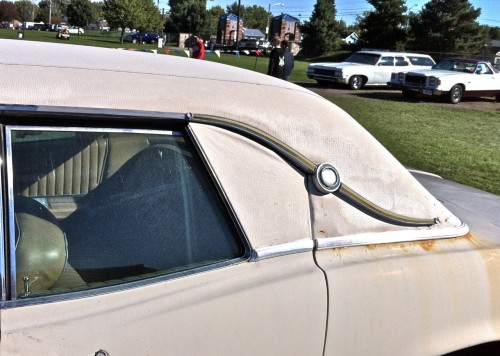 This unmolested (and unloved) '68 Thunderbird bears witness to one of the problems with vinyl roofs.  Over time water can seep under the vinyl and corrode the metal underneath and by the time the owner notices the bubbling of the vinyl over the rust spot the damage has already been done.  This one appears to suffer the double indignity of having rust forming around the holes that were drilled to attach the trim at the base of the C pillar.  Like an aging movie star desperately clinging to the beauty she once possessed, this old bird still proudly wears the landau bars that were unique to high end models.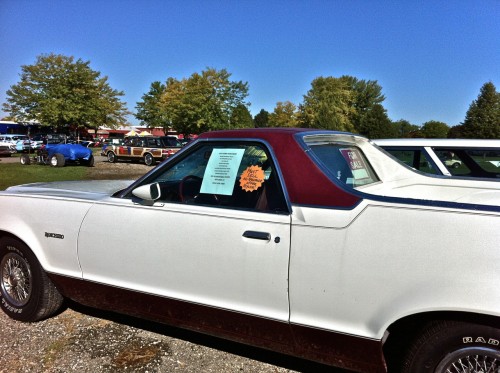 It's hard to image what stylists were going for when they chose to endow pickup trucks with vinyl roofs but both Rancheros and El Caminos could be adorned with them.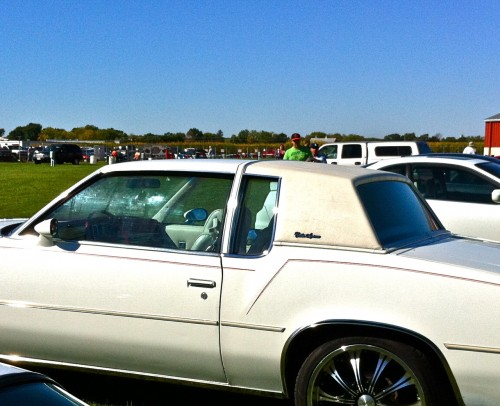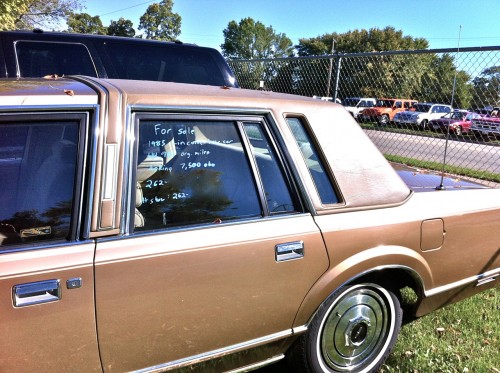 By the late 1970s and '80s vinyl roofs began to say goodbye but they didn't disappear all at once.  As seen on the '79 Olds Custlass and '85 Lincoln Town Car above, the front half of vinyl roofs left first but remained over the rear seat area for a time, making back seat passengers feeling mighty special.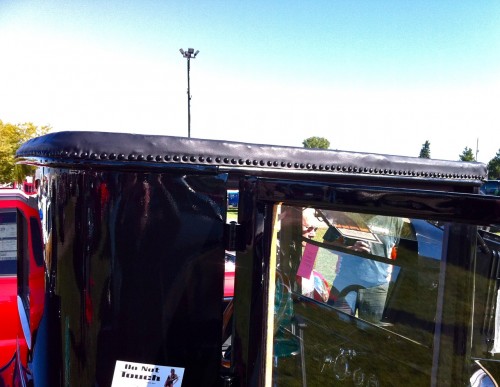 One might assume that vinyl roofs were used to invoke the look of a convertible – and one might be right – but there could be another explanation.  Spotting this 1923 Chevrolet business coupe with its leather roof, it occurred to me that perhaps the vinyl roof was meant to arc all the way back to the early days of the automobile when this construction technique was in vogue.
In these more sober times, silly affectations like vinyl roofs are now completely passé and I can't think of a single car maker that offers them as a factory option.  There are still a few – mostly very old – car buyers out there who still treasure the look of a vinyl roof and some dealers – mostly Buick, it seems – cater to this crowd with expensive and tasteless dealer installed treatments.  Although design trends tend to come and go and come back again, I doubt we'll ever see a vinyl roof-clad Mustang Grandé or Ghia.