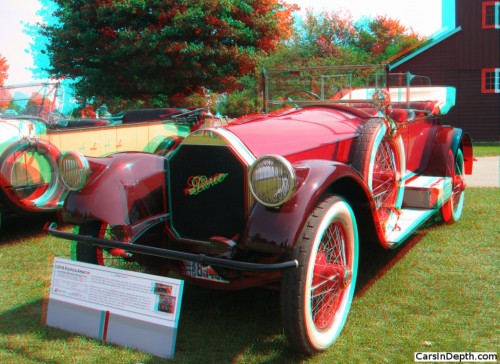 To view the entire photo gallery in 2D or your choice of stereo 3D formats, click here for a Flash player , here for an HTML applet, or here for an HTML5 viewer
This car has an interesting history. From photographer Richard Spiegelman:
This Pierce-Arrow was built as a custom body by Don Lee coachworks  in California. The car ended up in the 30's in the possession  of a minister and the story goes that the members of his church decided to update the look of his car. Being in the depression money was in short supply and this seemed to be a cost effective way to give the car a more modern look.  The modifications gave the car a more modern hood line, straight back from the top of the radiator to the cowl. The cowl itself was squared up. An outer layer of steel panels were attached on top of the old aluminium paneled body. The front fenders were skirted in the current fashion of the mid-thirties. The trunk was extended out over the original trunk. While all these modern touches were good in theory they lacked something in execution…
Ron Fawcett of Whitby Ontario had retired from running his old car restoration and car sales business in the early 80's and looked forward  to working on several 1918-20 Pierce-Arrow Model 48 tourings.   The twin valve six models were his favourite Pierce-Arrows.  This custom body by Don Lee coachworks car was an unique project. Ron had to remove the new outer body carefully and uncover the original custom body and then do a complete restoration on the car. I took extensive photos of the restoration as it progressed. The most interesting visual time was when the new outer body was removed. Ron and I set up the old pieces beside the car so you could see the disguise and what was hidden beneath it for so many years. It took Ron 3 years to restore the custom body car. It now belongs to Ralph Mckittrick of Scarborough, Ontario, Canada. Ralph has entered the car in many shows over the years and has won many awards with the car. Ron Fawcett restored several Pierce-Arrows over the next two decades until he died in 2008.
Photos of the "original" second version here.