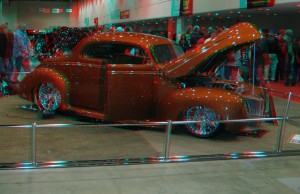 Because World War II interrupted most passenger car production in the US, and because it took most manufacturers a while to shift to civilian production and design modern automobiles, ithere are fewer 1940s vintage cars to choose from for customizers . On the other hand, good customizers do amazing things with just about any car that they start with, so the '40s cars at the 2011 Autorama still looked pretty good. Two 1940s cars were "Great Eight" Ridler Award finalists, "Copper Head" a 1940 Ford coupe owned by Kenneth Tallent of Mckinney, and Tim Gunsalus', 1947 Chevy pickup Roadster.
The 1949 Ford is generally considered to be the first completely new postwar design, in part because of its 3 box design that departed from the slope backed cars of the 1930s. There was a '49 Ford that was part of a display of flawless black Fords ranging over three decades, but it wasn't precisely a "three box" design because it was a convertible.
Also among the '40s cars at the big Detroit show were two flawless '48 Cadillac convertibles, one black and one copper orange, with Caddy's first stubby little fins. Fins that would grow to massive proportions over the next decade. Even if it hadn't been painted a bright yellow verging on Euclid green, the high level of workmanship on a '47 Ford coupe would have caught my eye and Voodoo Larry Customs showed "Voodoo Idol", a slammed and highly modified green '46 Ford in tribute to Gene Winfield.
Click on the gallery after the jump to launch a Flash player to view in your choice of 3D and 2D modes.