To view the entire photo gallery in 2D or your choice of stereo 3D formats, click here for a Flash player , here for an HTML applet, or here for an HTML5 viewer
The two-door version of the Cadillac ATS is an important car for the brand. The ATS sedan competes with the BMW 3 Series, a car that more or less defines the segment. BMW thinks that offering a coupe is important enough that they've split off the 4 Series to give the two door version of their mainstay sedan it's own identity.
Start the YouTube 3D video player. Click on the settings icon in the menu bar to select 2D or your choice of stereo 3D formats
It's interesting that the ATS coupe goes the conservative route in terms of styling, instead of the kind of cutting edge design seen on the outgoing CTS coupe. Perhaps at the entry level of luxury, buyers are looking for class, not flash. In any case, the ATS coupe is a handsome motorcar. Too bad they don't call it a Coupe de Ville.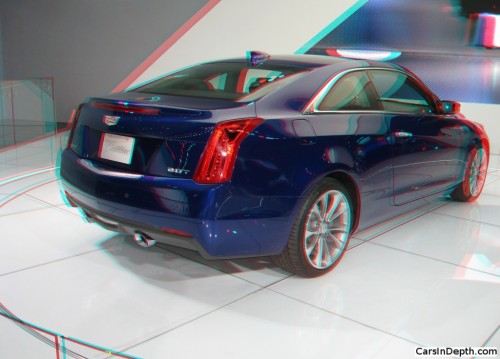 To view the entire photo gallery in 2D or your choice of stereo 3D formats, click here for a Flash player , here for an HTML applet, or here for an HTML5 viewer