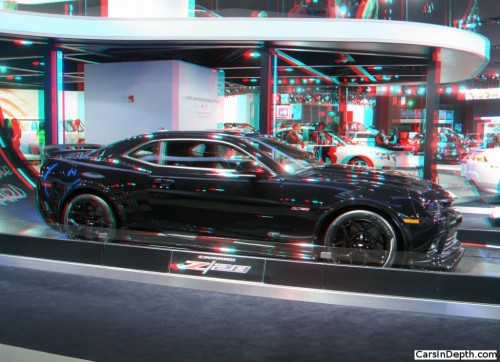 To view the entire photo gallery in 2D or your choice of stereo 3D formats, click here for a Flash player , here for an HTML applet, or here for an HTML5 viewer
The new Camaro Z/28 isn't cheap. It starts at $75,000 and at that price you don't get air conditioning. What you do get is a 7.0 liter LS7 V8 rated at 505 horsepower and 481 pound-feet of torque (manual six speed transmission only), a limited-slip differential, race-tested spool-valve dampers with four-way control, stiffer springs and bushings, and wind-tunnel designed and track tested aero package that includes a very aggressive front splitter and rear spoiler that give the Z/28 a unique profile.
The new Z/28 is supposed to hearken back to the original Z/28, which was developed to race in the legendary Trans Am series, so it's being pitched as the most track-capable Camaro ever. Chevy claims that the 305-width Pirelli PZero Trofeo R tire that's specified is "believed to be the widest front tire on any production car," so the car can turn. To make it stop, inside the 19-inch forged aluminum wheels those tires are mounted upon are 15.5-inch, carbon ceramic front brakes from Brembo. There are slightly smaller, 15.35-inch ceramic rotors in the back.