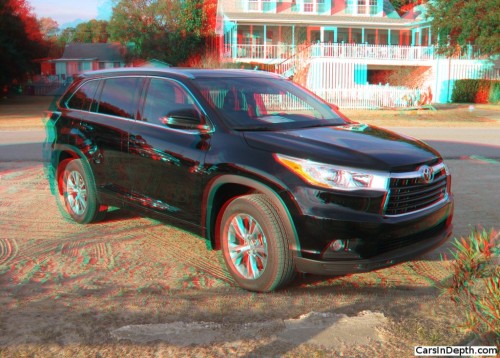 To view the entire photo gallery in 2D or your choice of stereo 3D formats, click here for a Flash player , here for an HTML applet, or here for an HTML5 viewer
When Toyota invited me to come to Charleston, SC to take part in a media ride & drive for the all-new 2014 Highlander, I thought to myself while sitting in one of the more severe Michigan winters we've experienced, "Well, there are worse places to be in late January than Charleston." That was before the southeast was hit with a major winter snow and ice storm, which arrived in Charleston just as we were supposed to depart. That meant that I benefited from Toyota's most gracious hospitality at Charleston's nicest hotel for another day and a half, while the city tried to cope with freezing temperatures.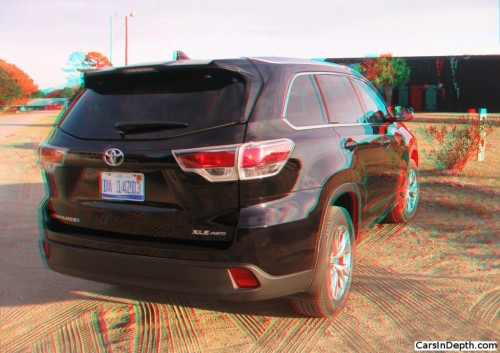 To view the entire photo gallery in 2D or your choice of stereo 3D formats, click here for a Flash player , here for an HTML applet, or here for an HTML5 viewer
It's too bad they wouldn't let us try out the AWD versions of the Highlander once the bad weather rolled in. On second thought, though, the Highlander is the softer of the two midsized SUVs that Toyota offers and the kind of urban and suburban driving that I did on dry and wet roads is probably closer to how it will be used by consumers than trying to challenge snow drifts. The Highlander is a unibody vehicle based on a car platform, unlike the 4Runner, which uses body on frame construction. In their presentation, Toyota made it pretty clear that the Highlander is meant as a family vehicle, not a hardcore off-road ready SUV. As such, it's not fair to judge it the way we'd look at a performance vehicle and the bottom line is that the many thousands of folks who opt for a Highlander to carry around their family will find it just about perfect for their needs.
Extra effort was put into making this the quietest Highlander ever, with acoustic glass and significantly more sound deadening materials. It was also given a fairly sophisticated independent rear suspension and while Toyota said that better driving dynamics was one of their targets, that IRS is tuned for comfort, not carving corners. The steering, like most modern electrically assisted units, doesn't have much feel but in normal mommymobile driving, the Highlander goes where you put it. The ride is tuned for comfort. In fact, much of the Highlander is about comfort.
They made it wider and longer than the previous Highlander. That makes it more spacious (it has a third row and can seat 8, or 7 in the highest trim line that has a second row of captain's chairs) and comfortable, though I felt a little bit claustrophobic driving it on the narrow streets in the older parts of Charleston, particularly because folks down there don't appear to have the best lane discipline. I didn't get a chance to check out the third row but normal sized adults should have plenty of room in the second row seats.
One nice feature the new Highlander has is that the back window has its own hinges, so if you are just tossing something small into the cargo hold you don't have to open up the entire hatch. Exterior styling is a bit more aggressive than in the past, though much more understated than the cartoonish face on the new 4Runner. It even has tail fins – as with the Cadillac SRX, the Highlander's rear taillamp units stand proud of the sheet metal, for aerodynamic reasons we were told.
I drove an AWD Highlander in XLE trim, which meant it had most of the bells and whistles many families would want. Controls were easy to access. The XLE comes with the upgraded 8 inch touchscreen Entune system and menus were fairly intuitive. Between that and the manual controls for HVAC (which got a workout as the weather changed for the worse), I don't think I had to RTFM even once. Our hosts gave us a guide book but I ended up off-route a few times and the navigation system was easy to use.
The interior was suitably upscale for a vehicle with a MSRP of $38,755, with leather upholstery, contrasting detail stitching, and wood panels. Fit and finish were about what you'd expect on cars in a manufacturer's media event (they were even cleaned and detailed in between drivers). The usual keywords like soft-touch surfaces and touch points apply. The only flaw that I could see really wasn't a flaw. For some reason Toyota puts what appears to be a part number on the lower right front of the in-dash infotainment module, which seems out of place when so much effort has been put into making the interior luxurious.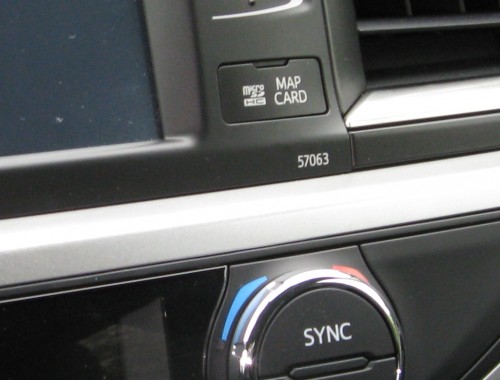 Visibility out the back was very good. Out the front was a different story. I'm not very tall, only 5'6″, and even with the seat in its highest vertical position, while you get a commanding view of the road, you can't really see the corners of the car. Also, in addition to the wide A pillars found on many cars today, the new Highlander has side mirrors that are enormous. While they give you a fine view of what's behind you, combined with size of the roof supports, they obscure a fairly large area, large enough to create a blind spot big enough for a fullsize car.
The XLE comes standard with Toyota's 3.5 liter DOHC 24 valve V6 engine with variable valve timing, rated at 270 horsepower and 248 lb.-ft. The V6 is backed by a six-speed automatic. With almost 4,500 lbs to carry around unloaded, that's enough grunt to keep up with today's traffic, but you aren't going to win any stoplight drag races.
Toyota gets ragged by enthusiasts for making "beigemobiles", boring cars, automotive appliances. As a matter of fact, the ad campaign for the new Highlander, which included a Super Bowl ad starring Terry Crews and the Muppets, uses the tagline "No room for boring", a play on the brand's reputation and the fact that it has a genuinely huge console storage bin, big enough for cases of soft drinks, or Mom's handbag. Toyota got to be one of the largest automakers in the world by accurately gauging what consumers want. They are a very competent company – whenever I deal with folks working for Toyota I come away impressed, they know how to do their jobs.
They did a good job on the new Highlander. People looking for a family vehicle may not want boring, but they aren't looking for driving excitement either. They're looking for room, comfort, convenience, features and safety. The new Highlander may not set enthusiasts' hearts aflutter with excitement, but it checks off a lot of boxes for families. It handles the job of conveying several human beings in comfort rather competently.