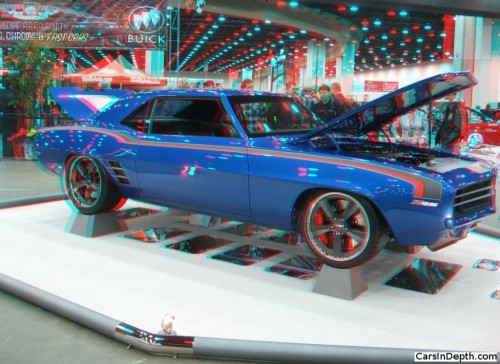 To view the entire photo gallery in 2D or your choice of stereo 3D formats, click here for a Flash player , here for an HTML applet, or here for an HTML5 viewer
One of my "rules" when deciding what to photograph at a car show is "no '57 Chevys and no '69 Camaros". Why take pictures of cars you can see at just about any car show? Of course rules are meant to be broken and when I come across a real ZL1 or Yenko Camaro, you can be sure that I take lots of photographs. This year's Ridler finalists included both a '57 Chevy 210 and this 1969 Camaro RS/SS and to be honest, I probably would have shot this pro touring Camaro despite my rule, even if it wasn't a Great 8 car. That two of the Great 8 finalists were pro touring resto mods says to me that show organizers and judges are starting to appreciate cars that can handle and stop in addition to having straight line speed and custom styling. Having been founded by the Michigan Hot Rod Association the Autorama has always been as much about go as it's been about show.
Brian Ganos, of Fond du Lac, WI, calls his car a Camaro ZRS. Larry Williams rendered the design and Jim Hubbel did the build. As with at least one other Great 8 car, Charley Hutton prepped the body and painted it. Advanced Plating, another frequent choice of Ridler competitors, did the chrome and powder coating. M&M Hot Rods, yet another name that shows up in the build sheet of another competitor, did the interior.
Opting for a Gen I small block Chevy V8 that's been bored and stroked to 427 cubic inches, rather than a LS, Ganos specified a Tremec T56 six speed manual transmission to transmit power and torque to the independently suspended rear end, courtesy of a C4 Corvette which also donated the front suspension as well. Baer six pot brake calipers are at the corners. It's all wrapped up in a very cleanly executed body painted in cerulean blue.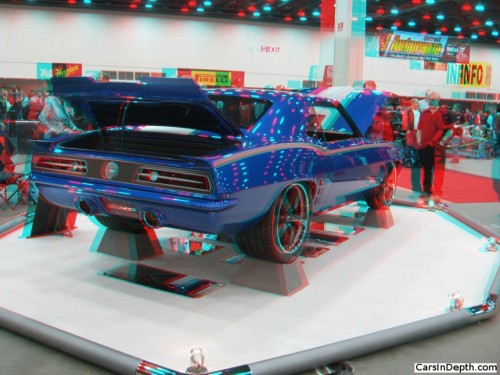 To view the entire photo gallery in 2D or your choice of stereo 3D formats, click here for a Flash player , here for an HTML applet, or here for an HTML5 viewer