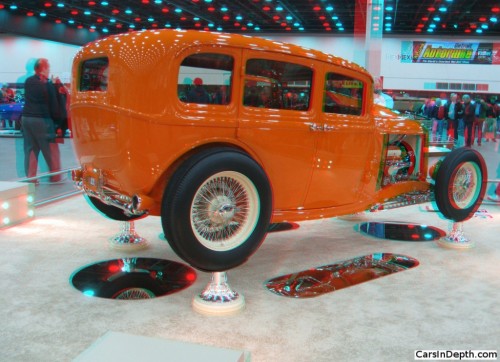 To view the entire photo gallery in 2D or your choice of stereo 3D formats, click here for a Flash player , here for an HTML applet, or here for an HTML5 viewer
Don Smith of Mansfield, Texas told Hot Rods by JSK that he wanted a late '50s, early '60s period hot rod, a traditional rod with an old school look. Maybe that's why they picked a color that's close to what school buses are painted. Either way, JSK succeeded. This "Fordor" just looks right, particular from the back. It states "hot rod" unequivocally,  I used quotation marks around Fordor because they didn't start with a deuce four door. The entire car has been fabricated, taking three years to complete the build.
It has a custom frame that's closer to that of a '33 or '34 Ford than a '32 and a completely new body was built on it to reproduce the look of something that had been chopped and channeled. The car's name, Y'd Open, comes from the fact that there is apparently no B pillar between the doors. The doors open to reveal a wide open interior. That look was achieved by integrating the B pillar structure into the leading edge of the rear suicide doors.
The period theme is consistent, with a bored and stroked 312 cubic inch real Y block Thunderbird V8, with chromed Laker style headers flowing into straight pipes on each side of the car. Induction is via a hard to find Hilborne fuel injection unit, though it's been modernized with digital controls. Another modern concession to driveability is the 5-speed Chevy gearbox.
Y'd Open is so well executed that its picture should be next to the dictionary listing for "hot rod".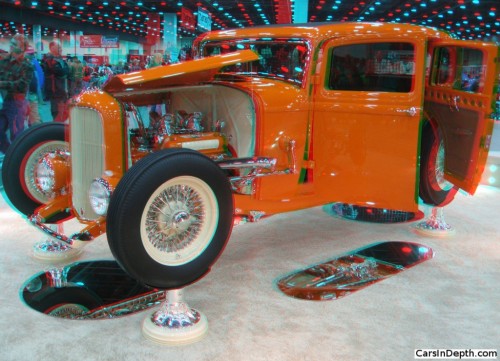 To view the entire photo gallery in 2D or your choice of stereo 3D formats, click here for a Flash player , here for an HTML applet, or here for an HTML5 viewer