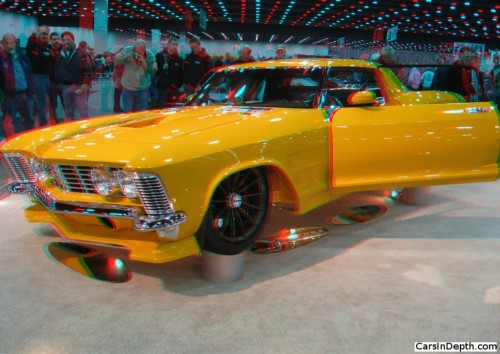 To view the entire photo gallery in 2D or your choice of stereo 3D formats, click here for a Flash player , here for an HTML applet, or here for an HTML5 viewer
Of the eight finalists for the Ridler Award, four were Fords and three were Chevys. The Ridler winner, though, was neither a classic Ford, nor a 1950s Chevrolet, it was J.F. Launier's 1964 Buick Riviera named "Revision". Launier owns the car and his shop, J F Kustoms, did the job updating Bill Mitchell's masterpiece with more modern touches. Launier has built three Ridler finalists for other people and with Rivision he was specifically aiming to win the Ridler, putting in approximately 20,000 hours of labor and spending over $300.000 in parts and materials.
Many of those 20,000 hours were devoted to creating what Launier considers to be more of a concept car than a custom. In back, the 3rd generation Riv's boattail was grafted on and below the front bumper is a very contemporary looking and rather aggressive aero splitter. Body mods include that fastback roofline and rear window from a '71 Riviera, hand formed fenders, hood and quarter panels as well as a completely fabricated rear section. The body is mounted on a one off custom perimeter frame. The interior is full leather, though that luxury sits below a huge intake duct that runs from the back of the car to the engine compartment. The reason for that duct is that the Rivision's two turbochargers and related waste gates are mounted under glass in the rear of the car. With the hood down, all that plumbing and the car's radical looks tricked more than a couple of observers into thinking that the the bright yellow Riviera is a midengine car but the 850 hp 6.2 liter GM LS family V8 sits about where the Riviera's original Nailhead sat.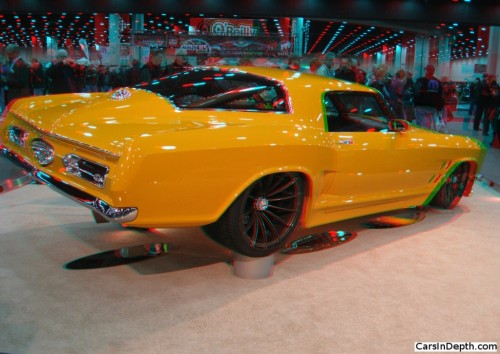 To view the entire photo gallery in 2D or your choice of stereo 3D formats, click here for a Flash player , here for an HTML applet, or here for an HTML5 viewer