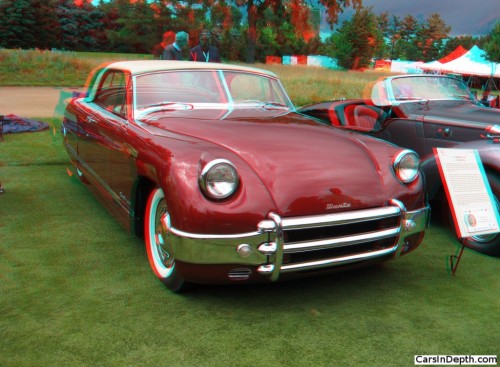 To view the entire photo gallery in 2D or your choice of stereo 3D formats, click here for a Flash player , here for an HTML applet, or here for an HTML5 viewer
Earl "Madman" Muntz changed car culture. Scratch that. He changed American culture. From his wild "Madman" advertising persona, to mass producing simple, inexpensive television sets that changed tvs from luxury items to consumer commodities, to his brief try as an automaker, to the invention of the four track tape cartridge and later marketing cellphones, Earl Muntz had an impact on modern life. The car he built was the Muntz Jet, based on a two-seat roadster that race car builder Frank Kurtis had started to sell. Kurtis didn't really have the means to go into full production so Muntz bought the manufacturing rights, stretched the wheelbase, added a back seat and created the modern personal luxury car in 1950.
He sold every one of the ~400 that he made for the $5,500 asking price, which wasn't exactly cheap in the early 1950s. The problem was that with all the hand finishing the bodies needed, it cost him $6,500 to build each one. After building about 400 (and losing $400K when it was serious money for an entrepreneur) Muntz ended production in 1954. A serial entrepreneur, he later pretty much invented car stereos for the masses with his introduction of the Stereo Pak cartridge and player, aka the 4 Track system, which flourished before Bill Lear's team developed the less expensive to produce 8 Track cartridge and player.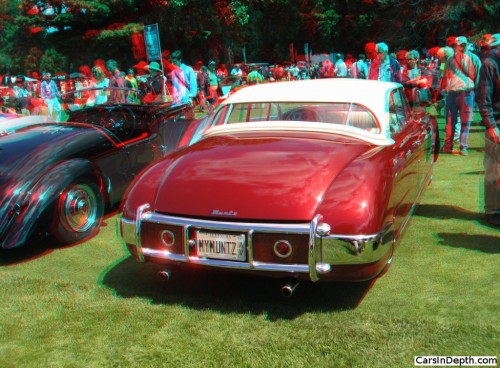 To view the entire photo gallery in 2D or your choice of stereo 3D formats, click here for a Flash player , here for an HTML applet, or here for an HTML5 viewer