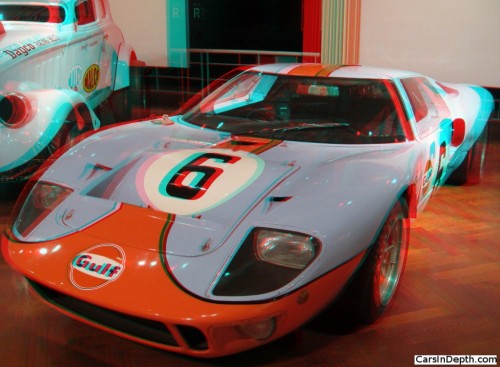 To view the entire photo gallery in 2D or your choice of stereo 3D formats, click here for a Flash player , here for an HTML applet, or here for an HTML5 viewer
We're celebrating the career of Ford and AMC engineer Roy Lunn, who had a role in developing some of the most significant cars in automotive history, including cars that won at LeMans four years running. Normally, the red Ford GT40 Mk IV that Dan Gurney and A.J. Foyt drove to victory at LeMans in 1967 sits in a place of honor in the Racing In America section of the Henry Ford Museum's automobile display, Driving America. However, in 2012, when the Mk IV was sent over to Europe for a tour that included a visit to LeMans to commemorate the 45th anniversary of its win there as well as a stop at the Goodwood Revival, somehow the engine mounts and some of the fiberglass body panels were damaged. It's thought that perhaps the crate containing the car was dropped at some point. Regardless of how it happened, the Ford Museum picked Dan Gurney's All-American Racers shop to do a "sensitive restoration" repairing the damage while performing a conservation on the rest of the vehicle that will preserve stress cracks and other scars earned in racing. Matt Anderson, the museum's transportation curator discusses the work on the Mk IV in the video below.
While the '67 LeMans winner is out in California getting fixed and conserved, the museum has replaced it with another LeMans winner, in fact a two-time winner. After the engine rules were changed for the 1968 race, Ford decided to end their factory effort at LeMans, turning over the effort to John Wyer at JW Engineering, which obtained sponsorship from Gulf Oil. One of the first three cars ever to wear the iconic powder blue and orange Gulf livery, this GT40 Mk II ended up winning back to back overall titles at the La Sarthe circuit. Like the Mk IV, it still carries the marks of competition – you can see signs of damage and repair on the rocker panel, and my guess is that those cracks and body filler will stay that way unless that car also suffers some damage like its younger brother.
To view the entire photo gallery in 2D or your choice of stereo 3D formats, click here for a Flash player , here for an HTML applet, or here for an HTML5 viewer