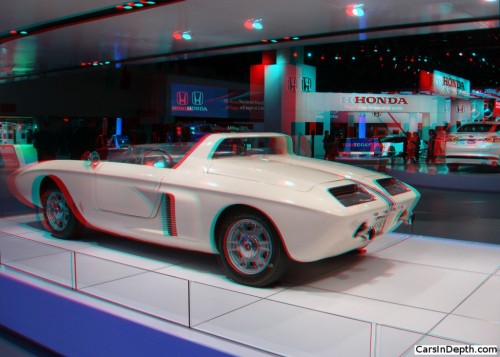 To view the entire photo gallery in 2D or your choice of stereo 3D formats, click here for a Flash player , here for an HTML applet, or here for an HTML5 viewer
In the early 1960s, an idea that had been percolating around Detroit since Chevy ad man Barney Clarke first proposed that GM build a small four seater with classic long hood short deck sporting proportions finally got the attention of some higher-ups at Ford. Lee Iacocca gave the green light to the development of a small sports car to appeal to the youth market. Because of Lunn's experience in racing and as a chief designer, his team was tasked with designing a chassis and mechanical components to underpin a design based on sketches by a young Ford designer named Phil Clark (who quite likely also originated the Mustang name and galloping pony badge). Ford senior designer John Najjar, in an oral history given to the University of Michigan, Dearborn, described Lunn's role in the first Mustang concept car:
Roy Lunn designed all the tubular structure, the suspen­sion, the engines. He got all that equipment built and shipped out to [a fabricator on] the West Coast. It was all put together, we finished our clay model in something like eight weeks' time, and, I guess, Roy had something like sixty days to build an operable vehicle. To see that thing go from an idea to finished product was an exciting time.
You can read Lunn's own account of the development of what is now known as the Mustang I. In January of 1963, he published a technical paper with the Society of Automotive Engineers titled, The Mustang – Ford's Experimental Sports Car. This is not the first time we've featured the Mustang I, which normally is on display at the Henry Ford Museum (see below), but Ford brought it out to the NAIAS to help promote the all-new 2015 Mustang where I shot the gallery at the top of this post.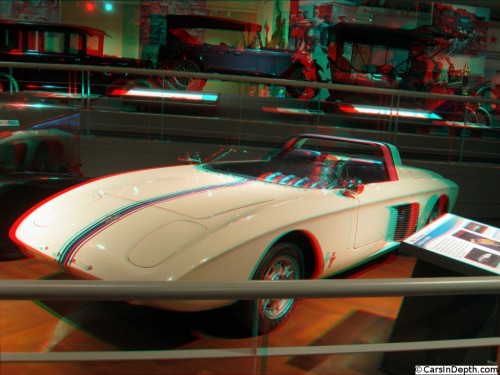 To view the entire photo gallery in 2D or your choice of stereo 3D formats, click here for a Flash player , here for an HTML applet, or here for an HTML5 viewer