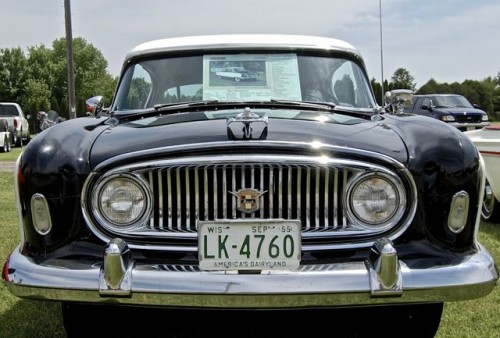 [There are plenty of reasons to look forward to summer but for auto enthusiasts it's all about car shows.  Sure, some parts of the country are lucky enough to have car show weather year round but here in the Midwest we have about five months that we can really count on so we have to take advantage of it while we can.
Wisconsin Collector Car serves as a clearing house for all sorts of information for enthusiasts and their Web site features a car show calendar covering events in the entire state and adjacent counties in Illinois and Iowa.  This weekend they listed no less than 22 shows and I decided to knock down a few of them that were a reasonable drive from home. I ended up hitting six.]
It's Friday evening and I'm headed for Cars On The Square in Monroe, Wis., about 30 miles west of my home base.  Monroe is a picturesque farming center that was settled mostly by Swiss immigrants. It is most famous for producing cheese and beer.  Swiss Colony, a company that makes those gift boxes of cheese and snacks, and the Minhas craft brewery and distillery are both headquartered there.  The brewery had been owned by the Huber family for generations and is the oldest brewery in the Midwest and the second oldest in the country.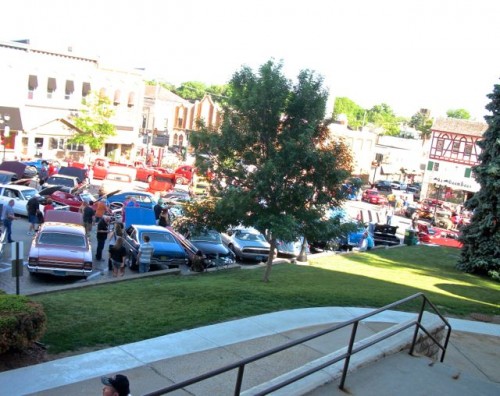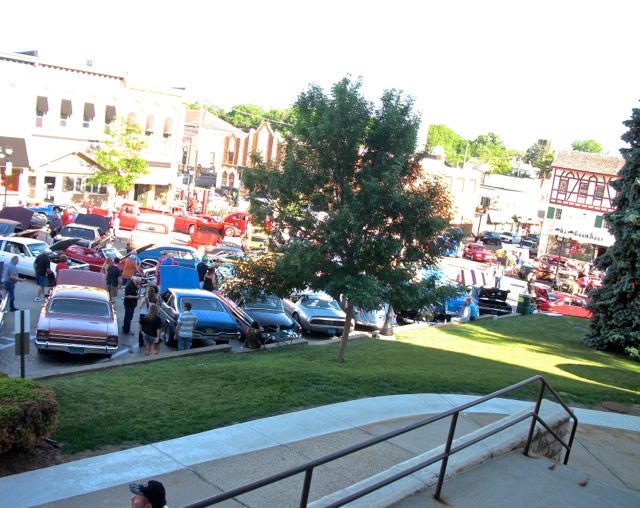 Monroe also hosts a really nice car show.  The handsome Green County courthouse has adorned Monroe's town square since 1891 and numerous stores, restaurants and taverns populate the four streets that border it.  For the car show the entire square is blocked off and two aisles of show space are created, each of which allows for two rows of cars.  In other words, Monroe can pack a lot of cars in its show.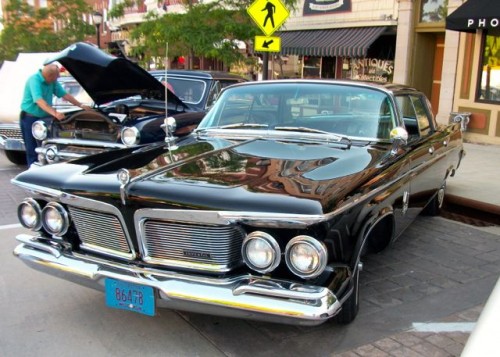 The cars on display were almost entirely American iron with heavy emphasis on the 1950s and '60s and the overall quality was impressive.  This 1962 Imperial was typical.  The interior appeared to be all original with no more than a couple of years of wear.  Other than some pitting of some of the chrome, the exterior was just as nice and, though it almost certainly must have had a repaint along the way, it still wore its original metal dealer badge (from a local dealer) on the trunk lid, held in place with rivets.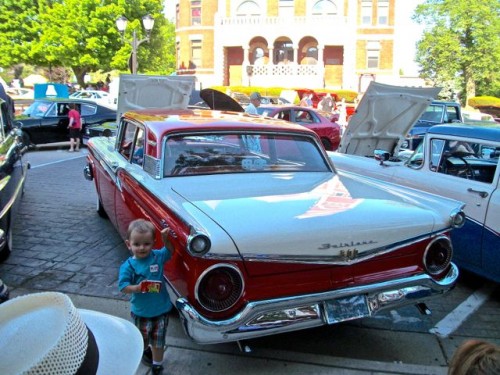 Almost as nice was this '59 Ford Fairlane 500 2-door sedan.  It's powered by a 352 c.i.d. Thunderbird V-8 and 3-speed column-mounted manual transmission.  Like the Imperial, interior and exterior are nearly immaculate.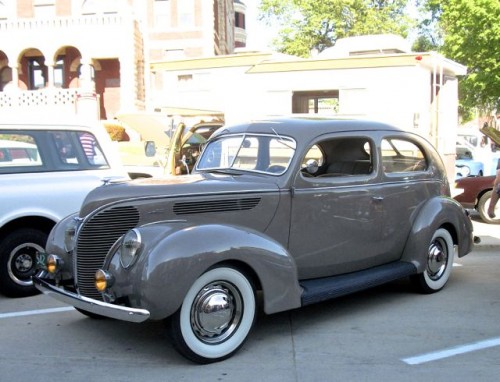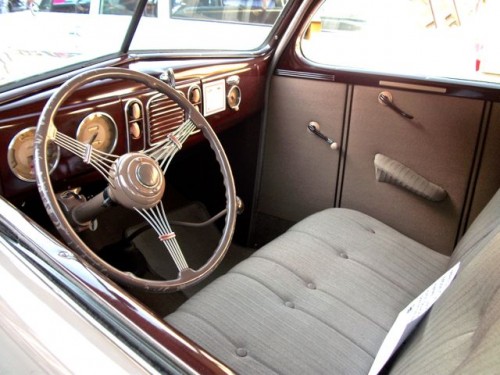 A couple from Winnebago, Ill., brought their 1938 Ford tudor sedan.  Interior has some flaws but the upholstery is a very credible reproduction of OEM fabric and the outside was perfect.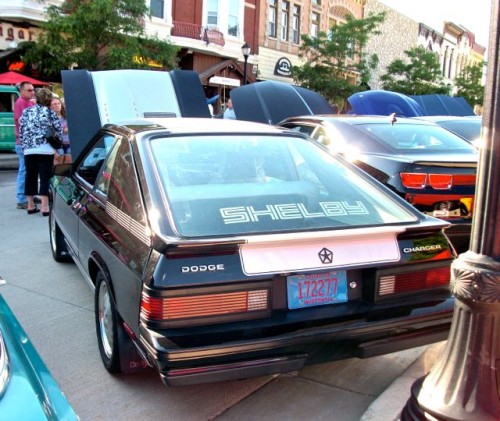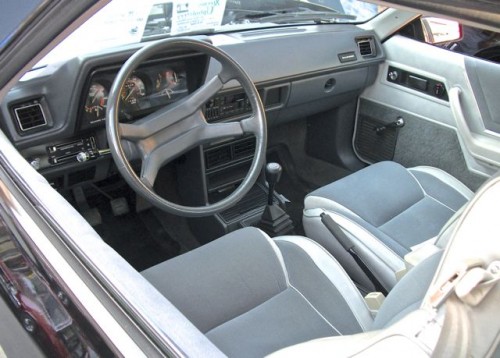 This 1985 Dodge Charger Shelby shows some exterior work but the interior is original and in amazingly nice shape.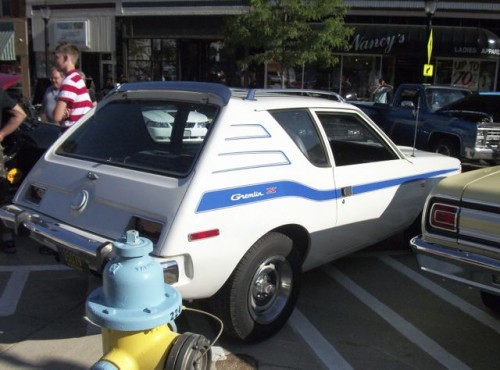 A completely original 1973 Gremlin was one of only three AMC products in Monroe.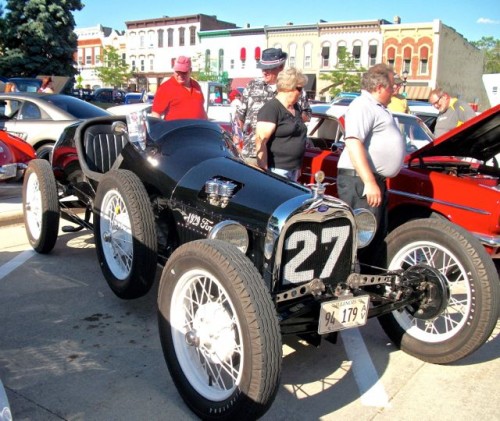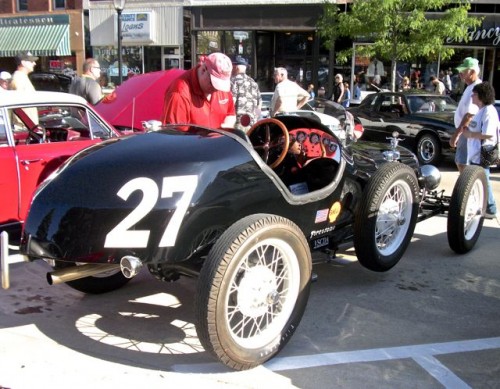 You don't expect to find something like this at a small town Wisconsin car show: a 1929 Model A Ford race car.  It has a 4-cylinder flat head engine with high compression head, an aluminum flywheel and dual Stromberg 97 carbs.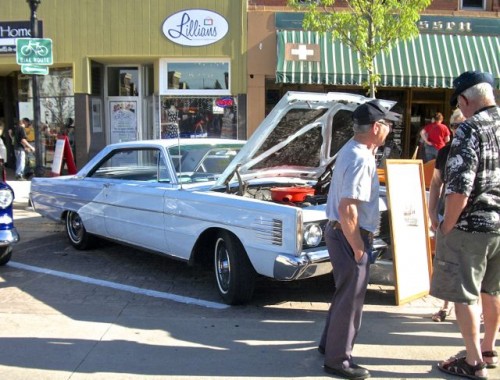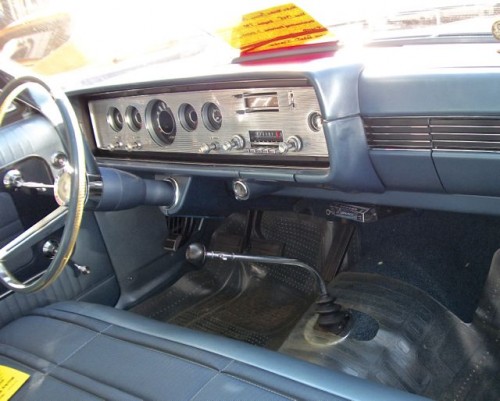 This '65 Mercury Montclair is not only in incredibly nice, original condition, it is also an interesting example of what a buyer could do with an order sheet back then.  Very few full packages were offered in the 1960s and instead, a buyer who wanted to place a special order could do so a la carte since every available option was listed and ordered separately.  Here, the original buyer opted for a 2-door hardtop (which came with the same fastback roof line as the new '65 Fords), bench seats with the Montclair's standard nylon fabric (Montclair was the middle trim line, above the entry level Monterey and below the high end Park Lane), power steering but non-powered brakes, AM radio but not air conditioning, a 390 c.i.d. V-8 and a 4-speed manual on the floor.  This one is also badged as a Marauder which was available on any of the three trim lines but typically included bucket seats and floor console which this car lacks.  It seems odd that a buyer would order the Marauder package but delete two of its key features.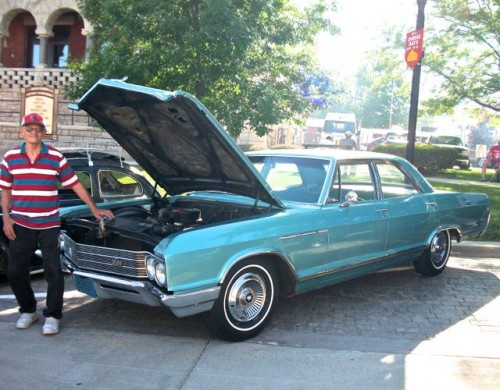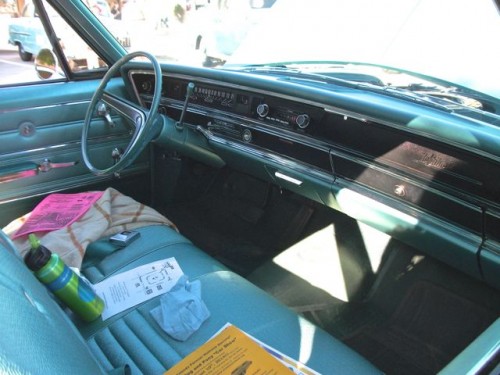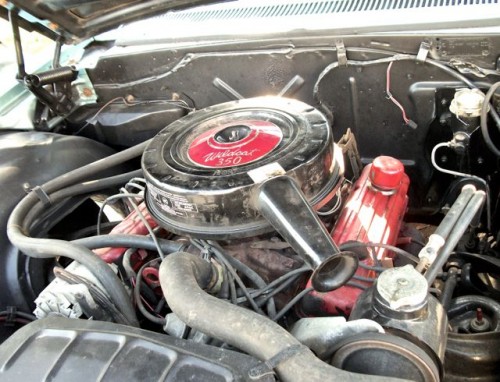 The proud owner of this 1966 Buick LeSabre bought it from his father who was the original owner.  It shows just 25,000 miles on the odometer and shows almost no wear at all, inside or out.  Diamond patterned clear plastic seat covers still grace the rear seat.  The owner told me that the Wildcat 350 under the hood makes the car extremely rare since Buick's 350 c.i.d. V-8 didn't come out until the next year and that somehow this experimental engine was installed in his LeSabre.  He may be confused, though, by Buick's engine nomenclature.  According to information found on Buicks.net, although Buick called its larger displacement engine the Wildcat 350, it actually displaced 340 cubic inches.  (The high compression version of the same engine was called the Wildcat 375.)  Whatever the case, it is bad form to argue with an owner at a car show.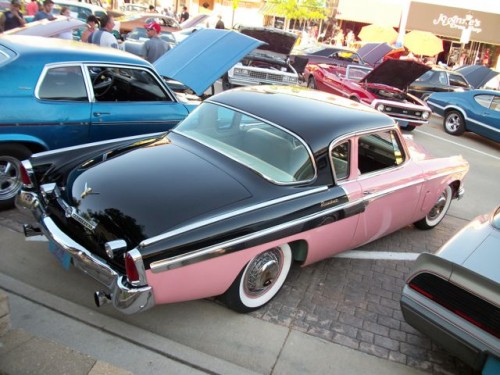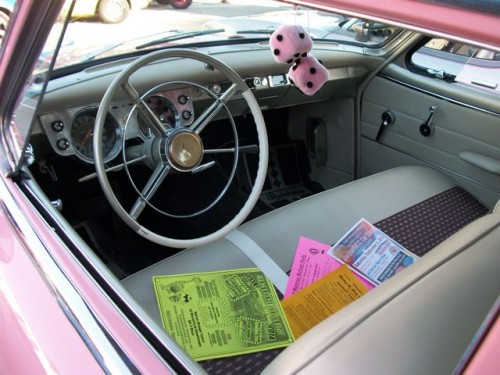 Finally, there was this stunning 1955 Studebaker President.  I have seen plenty of Studebakers over the years and they don't age well.  Even nicely restored, there is often something about the cars that looks off.  Tired might be a good word to describe it.  This one, however, was absolutely flawless which means that it probably looks far better than it did the day it was built and that the restoration probably cost more than the car will ever be worth.
With Friday night's Cars On The Square under my belt, I was now looking forward to hitting three shows in the southeastern part of the state on Saturday with by buddy Chuck.  Stay tuned.