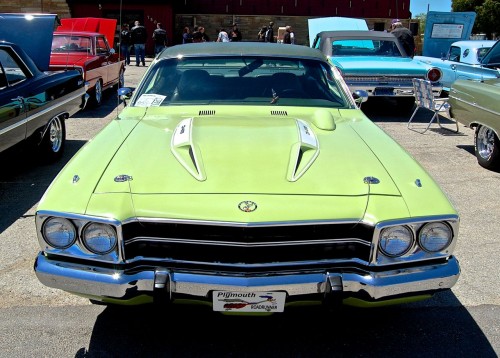 [There are plenty of reasons to look forward to summer but for auto enthusiasts it's all about car shows.  Sure, some parts of the country are lucky enough to have car show weather year round but here in the Midwest we have about five months that we can really count on so we have to take advantage of it while we can.
Wisconsin Collector Car serves as a clearing house for all sorts of information for enthusiasts and their Web site features a car show calendar covering events in the entire state and adjacent counties in Illinois and Iowa.  This weekend they listed no less than 22 shows and I decided to knock down a few of them that were a reasonable drive from home. I ended up hitting six.]
After hitting 4 cars shows in less than 24 hours, I had planned to slow down on Sunday and just take in a show in Oak Creek, Wis., that was held in the parking lot of a bowling alley (odd, but a bowling alley in Edgerton, Wis., used to host car shows, too – must be a Wisconsin thing).  On the trip home I decided to take a new route, proceeding down I-94 to the Racine area and then heading west on Wis. 11.  At a cross roads in the country, almost out of nowhere, I saw a sign for a car show so, of course, I had to stop.  This would my sixth car show in just under 48 hours.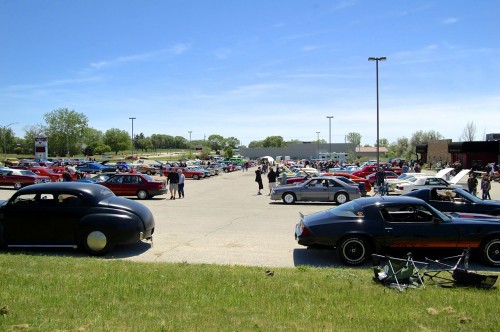 Oak Creek
Unfortunately, I had dawdled enough Sunday morning that by the time I got to the show in Oak Creek at 1:30 it was starting to break up.  (Come on, guys, your notice said it went until 3!)  Still, there was plenty to see in the short time I was there.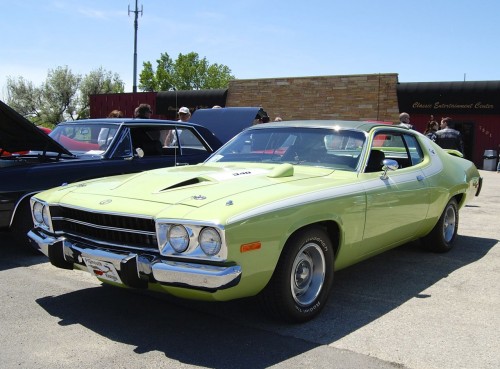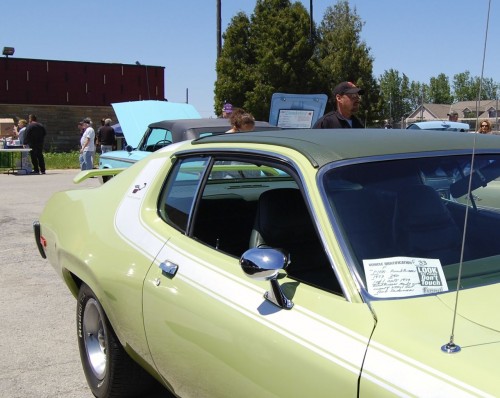 This 1973 Plymouth Road Runner represents one of the last gasps for the muscle car market.  Increasingly stringent safety and emissions regulations, not to mention escalating insurance rates, were already conspiring to bury this most American of automotive segments.  The owner of this mostly original example says that it is 1-of-1 because of the unique "halo" vinyl roof.  Although in 1973 you could order a vinyl roof on most any car, you rarely saw one on Road Runners.  It wasn't at all unusual, either, for a manufacturer to offer more than one style of vinyl roof so while I've never seen a Road Runner sporting a halo roof, I know Chrysler offered them on some of its cars.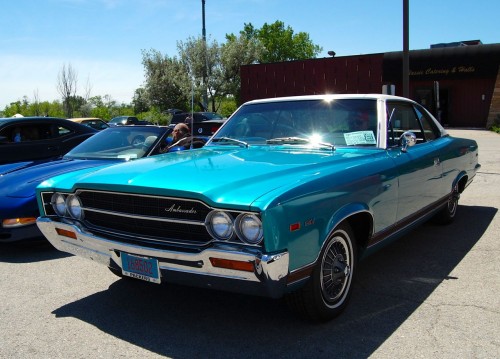 A top-of-the-line 1969 AMC Ambassador SST 2-door hardtop looking showroom fresh. It was built roughly 20 miles from here.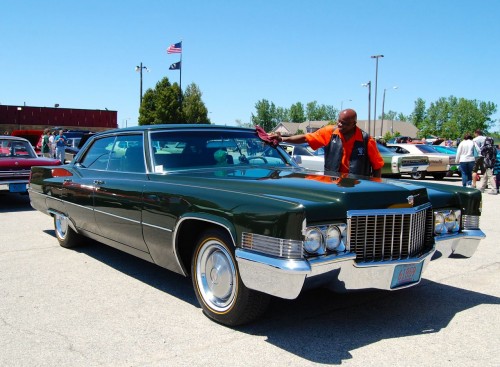 At a car show in the Milwaukee and Racine area you are more likely to see African-American gear heads than you will inland in Wisconsin.  This gentleman was one of several who were showing cars in Oak Creek and was taking obvious pride in his beautiful 1969 Cadillac Sedan de Ville.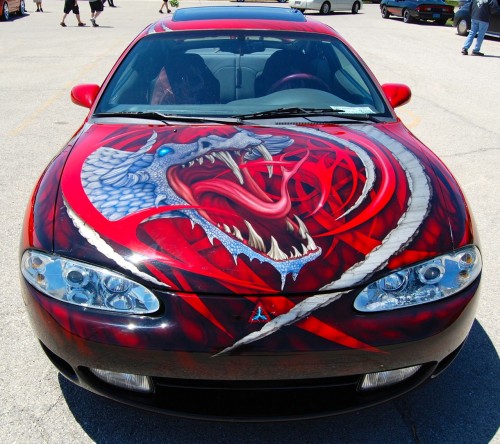 Oak Creek offered a nice mix of genres including ricers.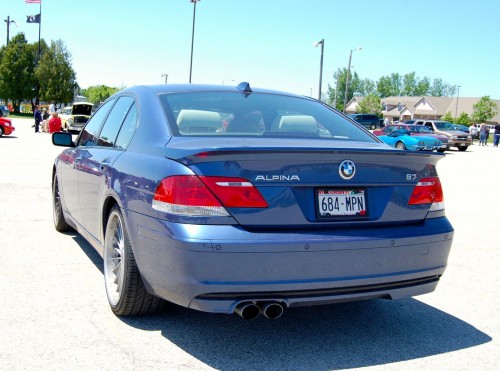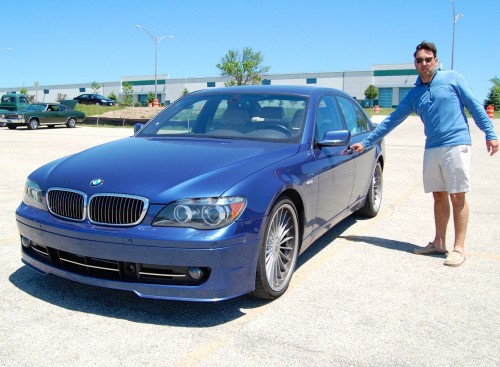 As far as I know, this is the first Alpina that I've ever seen.  In an arrangement somewhat analogous to Shelby's relationship with Ford, Alpina designs and manufactures performance upgrades for the BMW 7-series that are installed on BMW's regular production line.  All Alpinas are painted this distinctive blue color and also sport unique interior trim.  In Germany Alpina is recognized as an automobile manufacturer and though its products are based on BMW 7-series sedans, they are branded and registered as Alpinas.  This owner apologized for not washing his car before showing it, but said he was running his kids around that afternoon and made a last minute decision to show the car.
Kansasville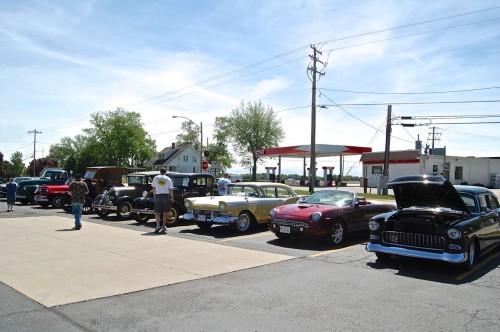 Coming home on Highway 11 I came to a four-way stop at the intersection of Highway 75 and noticed a sign on the corner for a car show.  Sure enough, right there in the parking lot of Gambler's II tavern was the smallest car I've ever seen.  I had to stop.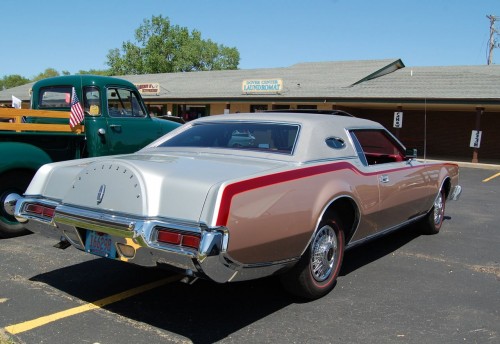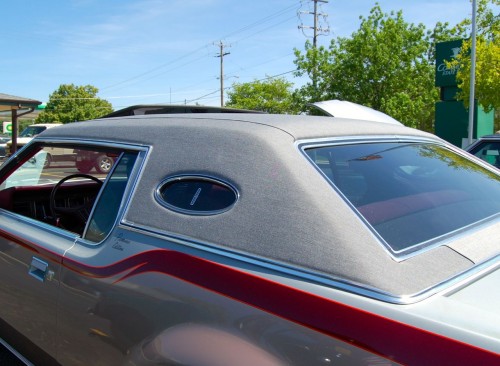 For me the highlight of the Gambler's II show was this customized Mark IV.  You can quibble with the choice of colors, but "Premiere Edition" upgrade was extremely well done and was well cared for inside and out.  The grey denim fabric covering the roof was expertly fitted and finished out and the red velour interior looked comfortable enough to nap in.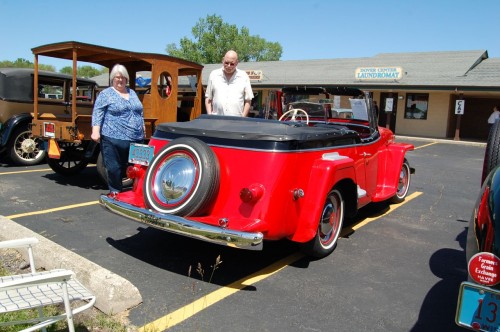 This Willys Jeepster may have been the most valuable car on display, given how much they've been going for lately.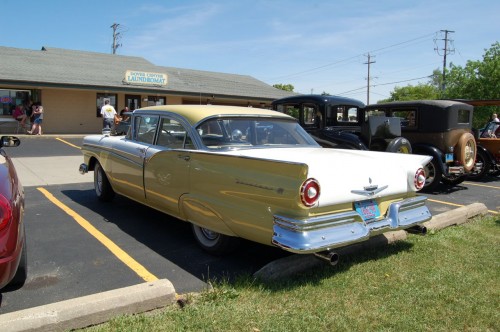 Gambler's II was serving food Sunday afternoon so before I left I grabbed a cheeseburger and sat on a bench on the sidewalk outside the door to enjoy it (pretty decent, actually) and enjoy the beautiful Sunday afternoon.  There were only about a dozen cars on display and no more than a handful of spectators milling around at any given time.  Small as it was, it was presented in the same spirit as all the rest I had seen this weekend and if I hadn't stopped I would have missed the only Premier Edition Mark IV that I likely would ever have a chance to see. It was also pretty quiet at this crossroads just west of Union Grove and relaxing there for while was a perfect way to close out a great weekend of car shows.