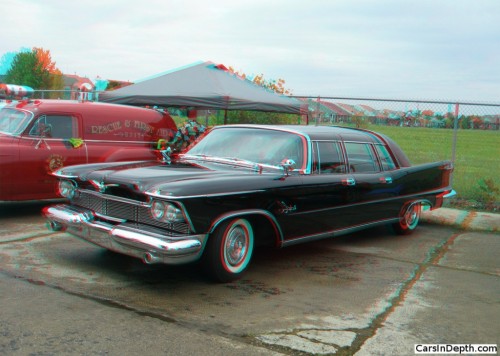 To view the entire photo gallery in 2D or your choice of stereo 3D formats, click here for a Flash player , here for an HTML applet, or here for an HTML5 viewer
In the mid 1950s, Chrysler still offered a factory built limousine as the flagship of their Imperial brand, but sales were slow. Not wanting to relinquish that part of the high prestige luxury market to Cadillac (Packard was dying and Ford's Lincoln brand was really no competition to Caddy) Chrysler made a deal with Italian design and coachbuilding house Ghia. Full size Crown Imperials were shipped to Italy where the chassis was stretched over 20 inches to 149.5″, a truly massive car. It looks even bigger with the huge tail fins of Chrysler design chief Virgil Exner Sr's "Forward Look".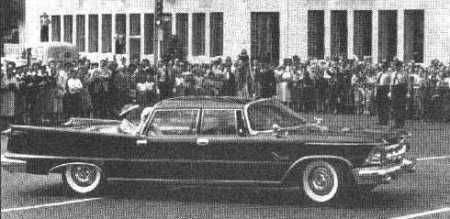 This particular car was bought by the family that owned Eaton's department stores in Canada. The Eatons were one of the oldest and wealthiest families in Canada and they were personal friends with Queen Elizabeth II of the United Kingdom. The Queen would stay with the Eatons on her trips to North America. This limousine was bought by the Eatons for her private use while in Canada. Another Ghia-built Crown Imperial limousine with a removable acrylic roof cap was made for Elizabeth's use as a parade car.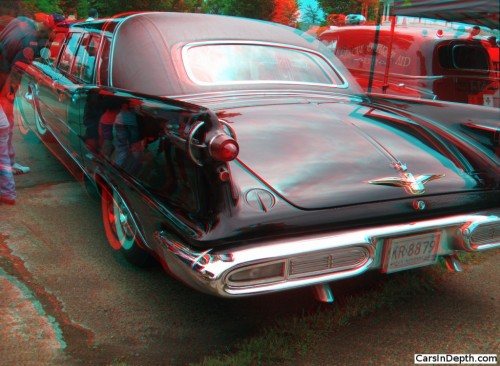 To view the entire photo gallery in 2D or your choice of stereo 3D formats, click here for a Flash player , here for an HTML applet, or here for an HTML5 viewer