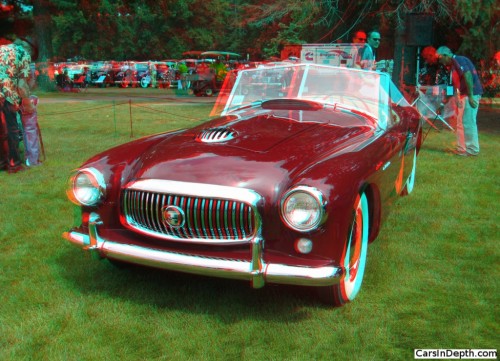 To view the entire photo gallery in 2D or your choice of stereo 3D formats, click here for a Flash player , here for an HTML applet, or here for an HTML5 viewer
We've previously discussed the role of stereo photography in the history of the Nash-Healey sports car. This past weekend I had the opportunity to photograph the very first production Nash-Healey, chassis #N2001. Only 104 of the first generation Nash-Healeys were made before Nash decided a redesign by Pinin Farina was in order, but I think the earlier cars are much better looking. You can read Healey collector Dennis Collins' history of the Nash-Healey and this particular car after the break.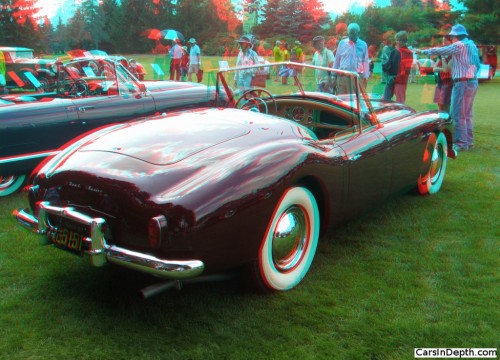 To view the entire photo gallery in 2D or your choice of stereo 3D formats, click here for a Flash player , here for an HTML applet, or here for an HTML5 viewer
Winner from day one: the first purpose-built American Sports Car

Like many of life's treasures, the Nash-Healey's birth was an unlikely confluence of events. Its beginnings sprang from a chance meeting in 1949 aboard the Queen Elizabeth, between Donald Healey and George Mason, president of Nash-Kelvinator Co. Mason wanted a sports car to improve the image of his automobile company and Healey was on his way to back to England after failing to acquire Cadillac engines from GM for his new sports car. They agreed that motor racing was a necessity in the development and promotion of a sports car. Mason thought his Ambassador engine would be perfect. The rest, as they say, is history: America's first true sports car, designed from the beginning to go toe to toe with the world's finest. Conceived with the engineering genius of England's master car designer and nurtured by the financial backing of a great American industrial corporation, the results were predictable – one of the great cars of the age. As soon as first prototypes were ready, they began to appear on the race tracks of the world among some very famous company.

It is June of 1950, only months after its conception, and the fledgling marque finds itself in the boiling cauldron of motorsports: Le Mans. The factory drivers Tony Rolt and Duncan Hamilton have driven the freshly constructed Panelcraft aluminum-bodied Nash Healey prototype to the race from the factory in England. They are surrounded by decades of tradition, hundreds of years of European and English engineering expertise and the grand marques of the world, including a first: a two-car Cadillac factory team with the full support of GM, fielded by millionaire sportsman Briggs Cunningham. Our heroes prepare to do battle .

The starting grid is formidable, including 4.5 litre Talbot-Lagos from France, looking  like overpowered lightweight sprint cars. Three Ferraris from Luigi Chinetti's North America Racing Team, the factory Jaguar XK120s and the Aston Martin factory team are among those who clearly came to win. Two lightweight Allards, one driven by Sidney Allard himself , were now equipped with monster 5.4-liter Cadillac engines with multiple carburetion and were clearly dead serious.

The results after 24 hours: only two of  the 4.5-litre Talbot-Lagos and Sidney Allard in the 5.4-liter Allard have bested the 3.8-liter Nash- Healey. The best the Jaguars can do is 12th and 15th. The fragile Ferraris are all parked, not one of the prancing  horses is prancing at the finish. The Cadillac team can only do 10th and 11th, the beginning of several defeats at the hands of the Nash-Healey for American icon Briggs Cunningham. The Nash Healey is a monster success on the biggest stage in the world. Mason is sold, and authorizes the beginning of production. A star is born.

In the 1951 Le Mans race, Briggs Cunnigham came to play. He entered three Chrysler 5.5-liter Hemi-powered C2Rs. In spite of qualifying second, third and fourth, his best finish of the three cars was 18th as his cars were still somewhat overweight. The Panelcraft alloy bodied Rolt-Hamilton Nash-Healey was to finish a very nice sixth. This was the year of the C-type Jaguar and Dunlop disc brakes, of Jaguar,  Talbot-Lago, Aston Martin, Aston Martin, Nash-Healey and Ferarri 340. Several other Ferraris finished down the list.

But the Nash-Healey's final factory appearance at Le Mans in 1952 would be the jewel in the crown. Nineteen-fifty two would mark the introduction to the world of the Mercedes-Benz 300SL factory team. It was the 30th running of the 24-hour race and the Germans were not to be denied. The Mercedes-Benz factory was about to conduct a clinic on how to run a professional racing team. (History shows that a young Roger Penske was present, taking careful notes.)

This was probably a world record to date for the amount of money spent by a manufacturer on a motor race (not a government – the Third Reich probably holds that record). The Mercedes-Benz team had, in addition to the requisite dozen or so engineers in the obligatory white lab coats, at least 40 technicians, five fully prepared and tested racing cars (two were spares) and, unusual at the time, two semi trailers fully outfitted as workshops.

I think we all know who was going to win this little fracas. Predictably the Mercedes team finished one-two. Score a victory to Rommel and the Panzers. Let's list the top five since we are all sportsmen here: Mercedes, Mercedes, Nash-Healey, Cunningham C4R coupe, Ferrari 340. So Briggs Cunningham gets into the top four with his new jillion dollar car, now much lighter with 350hp, and still has to look at the back end of a Nash-Healey. Bummer.
So, is the story here that the little Nash was able to defeat all but the Panzers; or that once again no matter how many millions he spent, Briggs Cunningham could not defeat the Donald Healey design?

No, the story is that for two generations foolish American collectors and vintage racers have fought tooth and nail (and checkbook) over "European purebreds," and have remained fundamentally ignorant about these wonderful, incredibly sophisticated cars that first took our flag into battle with such distinction.

In addition to its record at Le Mans, the Nash-Healey competed at the Mille Miglia, finishing as high as 30th (out of over 400 entries in 1951) of 173 finishers. Nash-Healeys also competed there in 1952 and 1953. A special car was prepared for the 1953 Mille Miglia driven by American ace John Fitch. This incredibly fast car was well in it until forced to retire with brake (hydraulic) failure.

Sadly, this story does not have an altogether happy ending. As in the American automobile industry in general, style was about to vanquish substance, and these lithe, lightweight alloy-bodied Panelcraft Nash-Healeys would be replaced by the steel bodied Pinin Farina cars in 1952. Longer, wider, tail finned, beauties that looked more like the road going sedans, with hundreds of pounds more "road hugging weight," they were glamourous to a fault. With racy names like Le Mans and sexy looks, they sadly could not match the performance of the alloy Panelcraft cars, but still embarrassed the likes of Thunderbird and Corvette, sports cars in name only. One hundred four of the alloy Panelcraft production cars were built. According to the Nash-Healey registry, as of today 20 are accounted for. Of these 20, seven are in operating condition. Three can be classified as restored.
Three of these early cars have been presented as entries into the modern day Mille Miglia, one of the most prestigious and exclusive events in historic motorsports. All three cars have been accepted and have run and completed the event.

Now we come to that point in our conversation where we turn to evaluation. We would all like to have the first Gullwing, snatched from the Mercedes-Benz  museum, but that is not going to happen. I am sure, however, we are all arrogant enough to place some value on it. At least seven figures. What seven figures is where we would differ.

How about the first Ferrari? Again seven figures, but what that figures would be would be all over the room. The C4R that finished 4th at Le Mans in '52? Let's not be picky, I will take any Cunningham team car.

The point is this: The first 1953 Corvette was not the first American sports car. It is a nice cruiser built on a shortened 1949 Chevy frame, with a fiberglass body constructed by a boat manufacturer. It has the same chance at a sports car event as a snowball in a frying pan. The Cunninghams had their shot, but their results were wanting. They are great cars, are huge money and we all covet them, but they were not around in 1950.

So alone and unafraid we have the alloy bodied Panelcraft Nash-Healeys. Competitive with the world's finest from the period that the sports cars we crave the most were created.
Now we present the very first Nash-Healey production car. Chassis #N2001 Engine #NHA1001, Panelcraft alloy bodied, hand built. A car that cost $8,000 delivered, when the most expensive Ferrari cost $9,500, another reason they were doomed to be replaced by the easier-to-produce steel Pinin Farina cars that were thousands less. That is why they were exclusive, and that is why there are not many around. In road trim they were 124 MPH cars; and in race trim 144 MPH cars. No other American car came close.

Let's not quibble. This is the first among firsts. The crème de la crème. The best of the best. This automobile is eligible for the most  prestigious events in vintage motorsports. Today, as it did in the day, it will compete with, and defeat Ferrari, Maserati, Jaguar, Alfa and Mercedes, anything it comes up against. It will win on show field or track, rally or race.