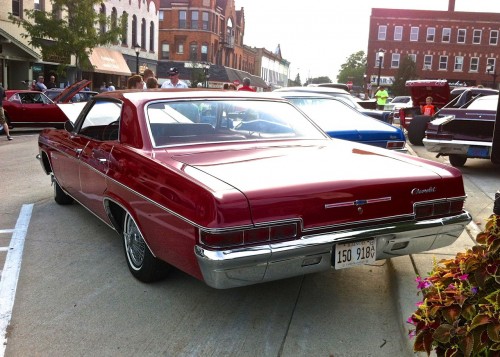 You can't go to a car show in the midwest without tripping over 1966 Chevrolet Impalas. During the 1960s Chevrolet cranked out Impalas by the millions (many of them at its Janesville, Wis., assembly plant 12 miles from my home). They are a favorite among collectors around here because the cars and parts are ubiquitous  and cheap and, arguably, they look great.
At a car show in nearby Monroe last weekend this car very nearly escaped my attention. I'm glad I stopped to look because as it turns out this is one rare Impala.
In 1966 Chevrolet built more than 1 million full size cars—122,000 Biscaynes, 182,000 Caprices, 236,600 Bel Airs, and three-quarters of a million Impalas including this very handsome Regal Red four door hardtop.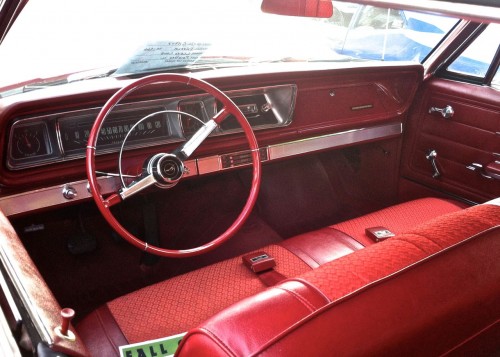 The Biscayne was the entry level model meant for fleet use and most were ordered with six cylinder engines. The Bel Air, adorned with a bit more chrome and somewhat nicer interior, typically served as a family hauler and more than two-thirds of them were ordered with V-8s.
The Impala was the sportiest of the full size Chevys and would have been purchased by families that were a little more affluent and looking for a little more panache. The Impala came in the widest range of body styles including four door sedans, two door hardtops, a convertible, your choice of six- or nine-passenger station wagons, and the most elegant of all— the four door hardtop.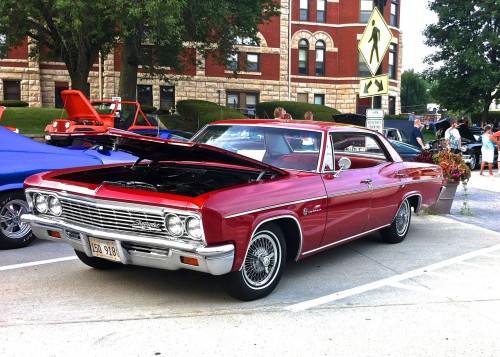 When ordering a car in 1966 you weren't presented with a limited number of option packages as you are today. Instead you worked from a very long check list and were free to pick and choose as you saw fit. If you wanted a Biscayne station wagon with a 427 cubic inch V-8 and a four speed, close ratio transmission on the floor, manual steering and no radio, it was yours for the asking.
Or, you could order your snazzy Impala four door hardtop the way this one was ordered—with Chevy's 250 cubic inch inline six and a column mounted three speed manual transmission.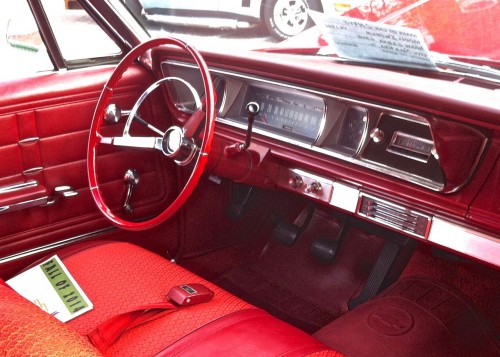 Wait. What?
It's hard to imagine why the original owner would order a car this way, but here it is and it is probably one of the rarest Impalas you'll ever see. Oldride.com, which was the source for the data above, reports that V-8 Impalas outsold sixes 20 to 1. The charts don't break it down by body style but it's safe to assume that most of those sixes went into four door sedans and wagons with very few ending up in four door hardtops. The charts also don't break down production numbers by transmission but again, the few three speed manuals that went into Impalas in 1966 probably ended up in sedans and wagons, not hardtops.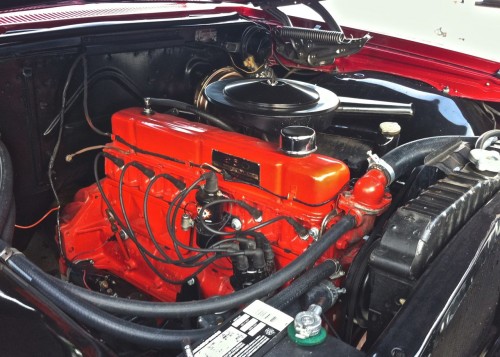 It isn't as though someone simply forgot to check anything at all. The car is equipped with power steering and brakes, an AM radio and a clock. It also wears spinner style wire wheel covers but those were more commonly seen on Super Sports and I suspect that they were added later.
I can't help but wonder what sort of buyer would put this order together. It seems unlikely that a dealer would since it would have been more difficult to sell without an automatic transmission. If the buyer were budget conscious, though, why order an Impala rather than a Biscayne or Bel Air and why a hardtop rather than a sedan. I'm betting it was ordered by a farmer who traded in his '56 Chevy 210 on the '66 Impala to ferry the family to church on Sundays and the wife into town now and then for shopping trips.
Whoever ordered it, this is a handsome and unique automobile and probably quite a kick to drive.