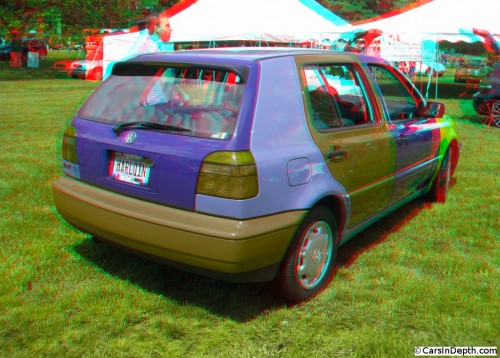 To view the entire photo gallery in 2D or your choice of stereo 3D formats, click here for a Flash player , here for an HTML applet, or here for an HTML5 viewer
It's hard to think of something as recent as a 1996 model as a vintage car, but does make it almost 20 years old. That may explain why this 1996 VW Golf Harlequin was at the Vintage VW Show. No matter the reason, I'm glad the owner, Ken Berman, of Livonia, Michigan, brought it to the show. Only 264 were made, which makes them fairly rare as far as production cars go. Also, if you check the Harlequin Registry, you'll see that a number have been resprayed with a single color. For some reason, most of those repainted cars started out as Pistachio Green cars (the panels were swapped at the end of the line at the Puebla, Mexico assembly plant) so seeing a "Pistachio Green" Harlequin Golf in original condition is even rarer yet.
Note: We're going to depart from our usual practice of illustrating the top of our 3D photo posts with red/blue anaglyph 3D images and instead use what's called a Dubois anaglyph, which changes the colors to avoid the retinal flashing that can happen with some shades of red and blue when viewing with red/blue glasses. With both red and blue panels on the Harlequin Golf, I figured I'd give your eyes a rest. Conventional red/blue anaglyph below.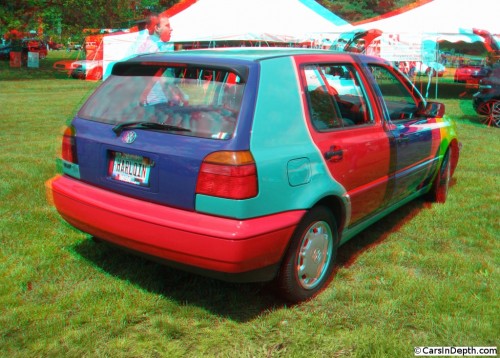 To view the entire photo gallery in 2D or your choice of stereo 3D formats, click here for a Flash player , here for an HTML applet, or here for an HTML5 viewer