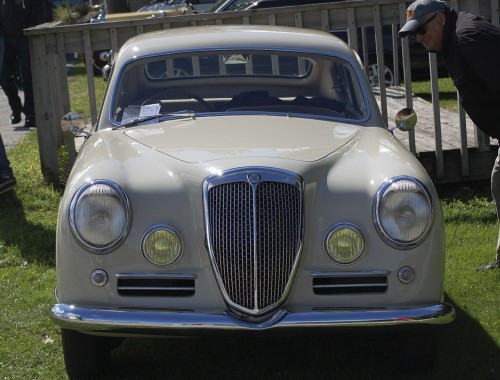 Lancia's future is shrouded in uncertainty. Currently it markets its cars in just central and western Europe and offers just four models, two of which, the Thema and the Voyager, are very thinly disguised U.S. market Chryslers. Rumors circulated earlier this year that its lineup would shrink even further and that next year only the subcompact Ypsilon would remain.
Lancia's past on the other hand is a rich history of design and engineering achievement which gave the world stunningly elegant cars such as this 1952 Aurelia and, more importantly, the engine that lies under its hood.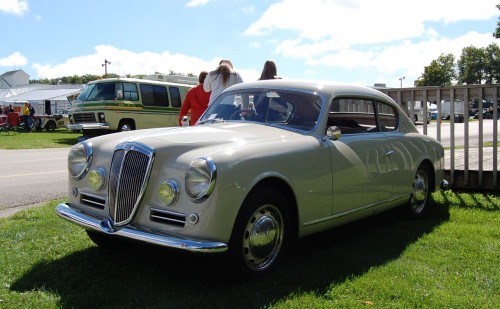 Founded in 1906 by Italian race driver Vincenzo Lancia, the company quickly became known for innovative designs which it either invented or pioneered such as advanced electrical systems, monocoque body construction, the "sliding pillar" suspension, fully independent suspensions, and the first 5-speed transmission in a production car.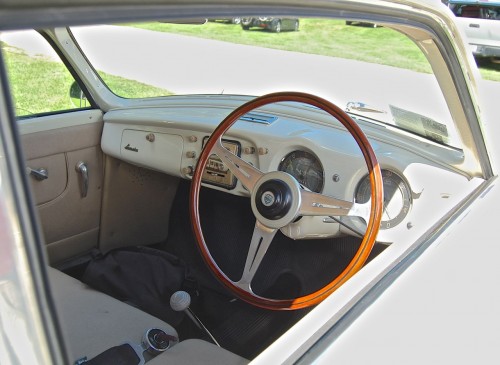 In the late 1940s Lancia engineer Francesco De Virgilio solved a challenge that had vexed auto makers for decades when he designed the company's 60º V-6 engine. Today the V-6 engine is a central part of nearly every car manufacturer's lineup because of its good power output in a relatively compact package. Marmon is credited with building the first V-6 engines in 1905 but nearly all of its cars were powered by inline 6- and 8-cylinder engines and in 1918 Buick engineer Walter Marr put a V-6 engine in a Buick but it would be 1962 before the company sold its first V-6 powered car.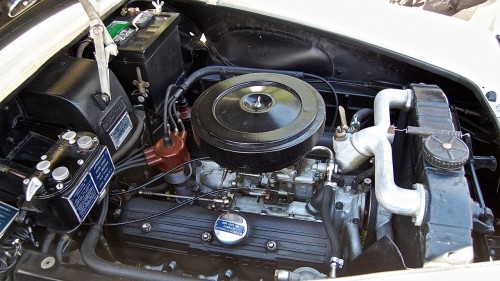 A V-6 engine is inherently rough running because it is basically two inline 3-cylinder engines joined together. De Virgilio discovered that by setting the two banks of cylinders at just the right angle and giving them just the right firing order you could create a much smoother running engine. His work was showcased in the Lancia Aurelia which debuted in 1950.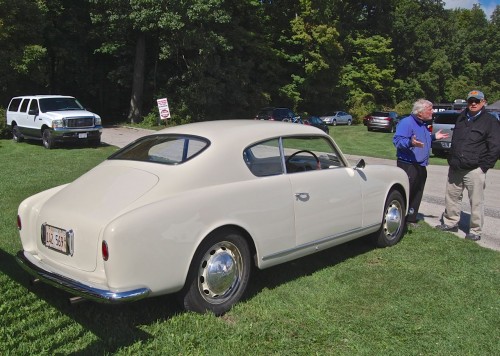 Almost stunningly beautiful, the Aurelia was initially offered as a four door sedan and the GT coupé. A Pinin Farina-styled Aurelia Spider was offered in 1954 and 1955, though only a relative handful were built, and Lancia built a small number of Aurelia convertibles during the eight year run of the model.
This painstakingly restored 1952 Aurelia B20 coupé was on display this weekend during the Vintage Sports Car Drivers Association meet at Road America and later at a mini Concours event in Elkhart Lake, Wis., where author Geoffrey Goldberg was selling autographed copies of his book "Lancia and De Virgilio: At the Center", a history of the Lancia family and the life and work of De Virgilio.
And, yes, Goldberg owns the Aurelia.