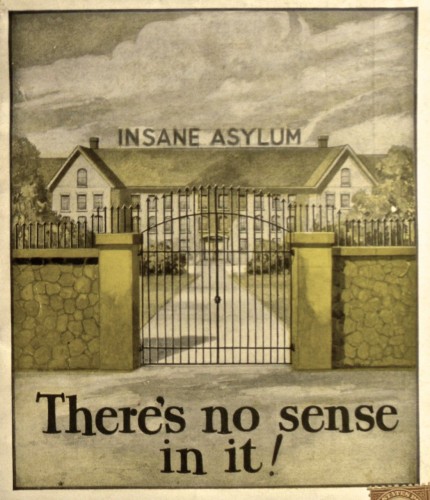 Humor can be an effective advertising tool even if you're selling cars. In 1969 American Motors produced a television commercial for its mid-sized Rebel that is considered by some to be one of the best TV car spots ever created. It may not have helped AMC sell cars but at least the ad got noticed.
This mailer for an auto maker from the 1920s probably got noticed, too. The recipient no doubt puzzled over a flyer that depicted an insane asylum on the cover and might have puzzled still more upon opening it to see that it came from a car company.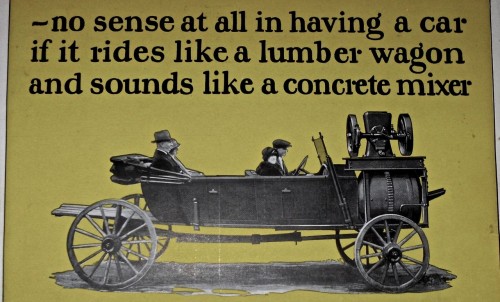 The company in question was Mitchell Motor Car Company of Racine, Wis. Barely remembered today, Mitchell had a short (20 years) history as an automobile manufacturer but a much longer history as a wagon maker. Like Studebaker, Mitchell made the transition from horse-drawn vehicles to automobiles and its products were well respected for their quality and durability.
The 'asylum' mailer opens to a large (12.5″ x 19″) flyer explaining the importance of holding to a rigorous maintenance regimen and outlining programs that Mitchell had in place to help the owner do that. It asks: "When you own a car like the Mitchell, and then allow it to degenerate into a condition where it reminds you of the monstrosity shown above—isn't it a sort of crazy proceeding? (Emphasis theirs.)
Continuing the insane asylum theme to flyer goes on: "And if you think you save money by going around with pounding pistons, growly gears, wobbly wheels and squeaky springs . . . you had better call in the alienists and reserve yourself a room in the nut factory with the rest of Rube Goldberg's 'boobs' ". [Alienist is an archaic term for psychiatrist. I have no idea what the writer meant by Rube Goldberg 'boobs'.]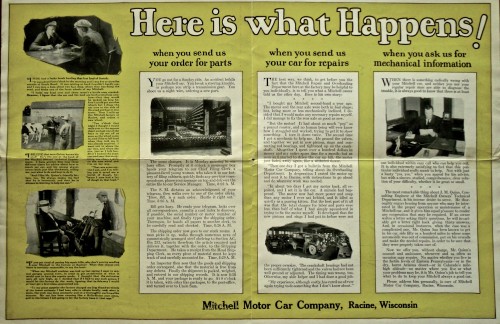 Open the flyer up fully and it explains how the company deals with customers seeking assistance with repairs whether they are simply looking for mechanical advice, wishing to buy replacement parts or planning on sending the car to the "Mitchell Repair and Overhauling Department" at the factory.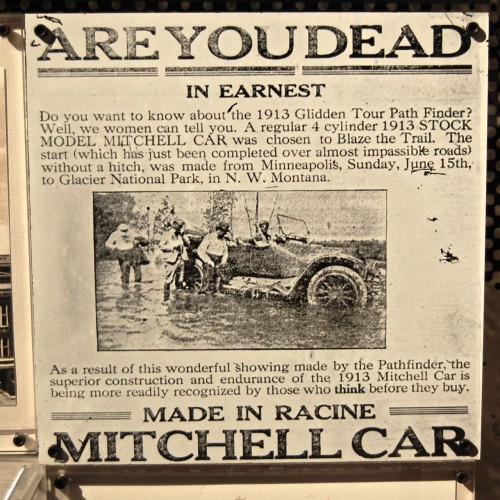 Such attention getting copy apparently was typical of Mitchell marketing. This earlier print advertisement uses that same approach.