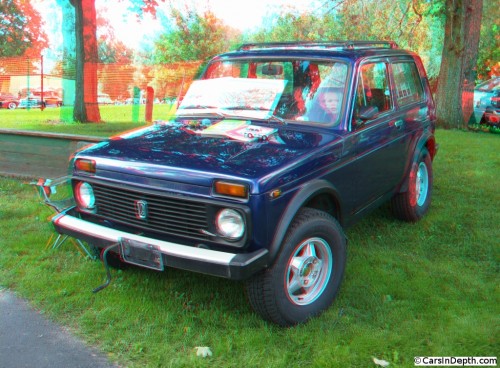 To view the entire photo gallery in 2D or your choice of stereo 3D formats, click here for a Flash player , here for an HTML applet, or here for an HTML5 viewer
This Lada Niva, photographed at the 2014 Orphan Car Show in Ypsilanti, Michigan, is in a bit better shape than the one that usually shows up at the OCS. That Lada is more of a working four-by-four, with tow hooks, a winch and a trailer hitch in back. This Niva is a bit nicer. It's more a of show car, with a display of literature and model cars on the hood. Technically, though, it wasn't really part of the show.

Start the YouTube 3D video player. Click on the settings icon in the menu bar to select 2D or your choice of stereo 3D formats
The owner just drove it to the show as an attendee, but when the show organizers spotted the Lada they asked him if he'd park it right near the entrance. The Lada is one of the last cars sold that can be hand started and the owner had the hand crank inserted, so I asked him if he'd try to start it for our readers.
To view the entire photo gallery in 2D or your choice of stereo 3D formats, click here for a Flash player , here for an HTML applet, or here for an HTML5 viewer