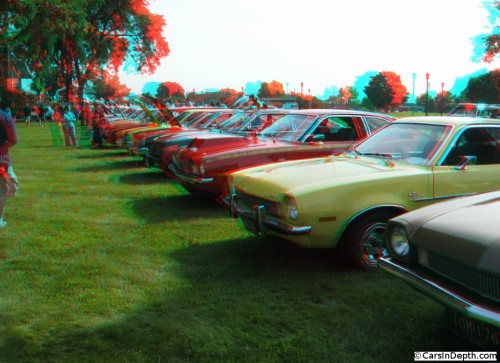 To view the entire photo gallery in 2D or your choice of stereo 3D formats, click here for a Flash player , here for an HTML applet, or here for an HTML5 viewer
Would you miss a parade of 50 Ford Pintos (well, 47 at least)? The cute little subcompact, oft demeaned as a fiery death trap due to lawsuits and controversy over how and where it mounted the fuel tank, does have its enthusiasts and for the past three years they've gathered for the Pinto Stampede, a car meet and fund raiser for the Wounded Warrior Project. This year the Stampede was held in Dearborn, Michigan and the proud Pinto pilots (alliteration is my friend) were reserved a special place of honor at the Ford Product Development Center employees' annual car show on the lawn in front of the PDC.
Read the rest of the post over at TTAC.

Start the YouTube 3D video player. Click on the settings icon in the menu bar to select 2D or your choice of stereo 3D formats