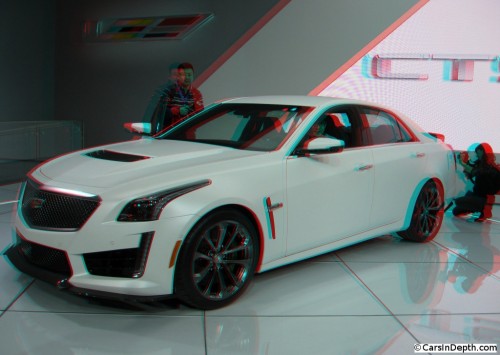 To view the entire photo gallery in 2D or your choice of stereo 3D formats, click here for a Flash player , here for an HTML applet, or here for an HTML5 viewer
While it falls short of the Dodge Charger Hellcat's 707 horsepower and 204 mph top speed, the newly introduced 2016 version of the Cadillac CTS-V is probably the fastest luxury four door sedan in the world, with a stated top speed of 200 mph. To get the CTS-V into the 200 mph club, there's a supercharged 640 hp version of GM's LT4 V8, last seen in the '15 Corvette Z06. Whether or not it's a myth that GM will not sell a more powerful car than the Corvette, the same engine does have a few more horsepower in the 'Vette. Torque is in the stump-pulling category, 630 lb-ft, something just a few years ago you might have expected in a diesel powered heavy duty pickup truck set up for towing heavy loads, not in America's sports car. We live in an amazing age.
If you'd like to see Cadillac marketing chief Jim Vurpillat's take on where the CTS-V and motorsports fit in with Cadillac's stated aspirations to make it a more general luxury brand than just a car company, you can read my interview with him over at The Truth About Cars.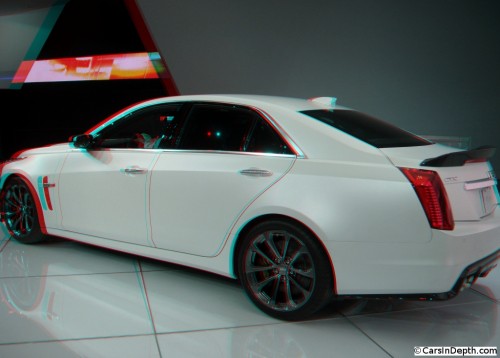 To view the entire photo gallery in 2D or your choice of stereo 3D formats, click here for a Flash player , here for an HTML applet, or here for an HTML5 viewer