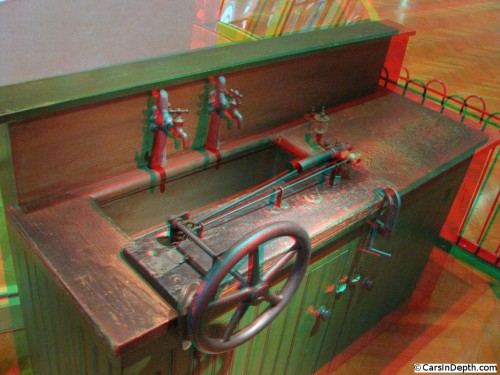 To view the entire photo gallery in 2D or your choice of stereo 3D formats, click here for a Flash player , here for an HTML applet, or here for an HTML5 viewer
By the mid 1890s, Henry Ford, a self-taught man if there ever was one, had worked his way up to being the chief operating engineer for the Edison Illuminating Co. of Detroit. He was also part of a small coterie of engineers and tinkerers like Charles Brady King, David Buick and Oliver Berthel who were obsessed with the idea of building a working motor car. They would share their interest, concepts and sometimes parts. Though he worked professionally with electricity, Ford pursued the development of his own gasoline powered engine.
According to the official story, Henry used assorted pieces of plumbing and scrap metal to assemble his first engine and that on Christmas Eve of 1893, he told Clara, Mrs. Ford, to help him in their kitchen. Henry had clamped his relatively primitive first engine to the kitchen sink counter and connected a wire to a light bulb above the sink to provide power to the engine's ignition. Asking Clara to drip gasoline into the intake, Henry spun the flywheel and the engine sputtered to life.
Some have suggested, though, that Henry deliberately backdated the date of his first engine's first firing in order to buttress his challenge of the Selden patent, and that what became known as the "kitchen sink engine" first ran at a later date than 12-24-93. Either way, the actual kitchen sink engine still exists and is in the collection of the Henry Ford Museum.
Normally that artifact is kept in storage and a replica that Henry Ford had made in the 1930s or 1940s is usually on display in the recreated Bagley Ave workshed  in Greenfield Village. For the Engines Exposed exhibition running through the middle of March, though, the actual kitchen sink engine is on display in the Henry Ford Museum's main plaza.