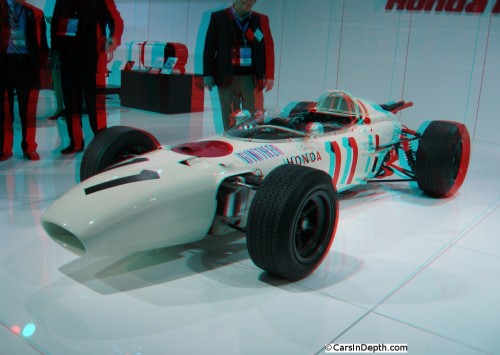 To view the entire photo gallery in 2D or your choice of stereo 3D formats, click here for a Flash player , here for an HTML applet, or here for an HTML5 viewer
Over the past few decades Honda has supplied engines to world championship Formula One teams at Lotus, Williams and McLaren, but it came as a bit of a shock to the automotive world circa 1964 when Honda first went racing in Formula One. A half century ago Honda Motor Co. was not known as the maker of popular cars like the Accord, Civic and CR-V. It was known as the maker of 50cc motorbikes and "you meet the nicest people on a Honda". However, Shoichiro Honda was a racer at heart and he convinced his partner and business advisor Takeo Fujisawa that F1 was a perfect way to get Honda respect as an automaker. Because of the engine rules in place at the time, Honda was uniquely positioned to compete for the world championship.
By then, Honda had already started making automobiles, the Kei class S500 and then the S600 roadster and coupe, along with a small commercial truck. The early Honda cars featured engines that while they were small in displacement they were about the most advanced engines used in automobiles during that era. Aluminum intensive, with double overhead cams and still hard to believe 9,500 rpm redlines. At the time, Formula One's engine formula was limited to 1.5 liters of displacement. While a 1.5 liter four has normal sized pistons, when you get to eight cylinders, the pistons start getting pretty small. Well, imagine how tiny the pistons are in a 1.5 liter 12 cylinder engine. You don't have to imagine, they're about the same size as in the 500cc engine in the S500. The engine rules suited Honda's engine expertise, small displacement high revving engines, to a T.
Consequently, Honda built the RA271, with a 1.5 liter V12 and managed to earn points in the 1964 season but it was at the season ending Mexican Grand Prix the following year that a Honda motor first powered a car to victory in car racing's highest echelon. The race in Mexico was the last for the 1.5 liter formula and Richie Ginther made the most of it, finishing ahead of Dan Gurney's Brabham-Climax. To get an idea of Honda, and Ginther's, accomplishment, Ginther's Honda beat drivers including Jackie Stewart, Bruce McLaren, Graham Hill, Jim Clark, Bob Bondurant and Jack Brabham, driving cars made by Ferrari, Lotus, BRM, Brabham and Cooper.
To celebrate the golden anniversary of the RA272's victory, Honda put it on display at the 2015 North American International Auto Show in Detroit.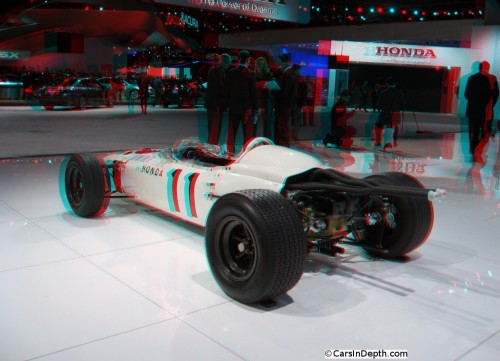 To view the entire photo gallery in 2D or your choice of stereo 3D formats, click here for a Flash player , here for an HTML applet, or here for an HTML5 viewer