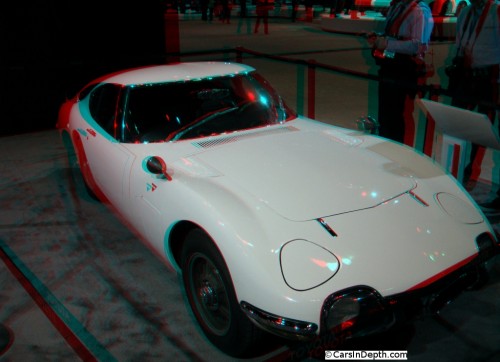 To view the entire photo gallery in 2D or your choice of stereo 3D formats, click here for a Flash player , here for an HTML applet, or here for an HTML5 viewer
For a car that is such an iconic model for Toyota, the famed 2000GT, first made in 1967, the stunning coupe, perhaps the most collectible Japanese car ever, had a lot to do with Yamaha, Lotus and even Nissan. Not only was it manufactured by Yamaha for Toyota, it started out as a Yamaha concept, the A550X by Albrecht Goertz. Goertz, a protégé of Raymond Loewy worked for Yamaha in the early 1960s when they were doing contract work for Nissan. The A550X was to be an update to the Nissan Fairlady sports car, but when Yamaha pitched it to Nissan, they declined. Toyota had already been trying to jazz up their stodgy image with the tiny Sports 800 coupe, so Yamaha approached Japan's largest automaker with Goertz's design.
Toyota's Satoru Nozaki had already started work on their own in-house sports car, the 280A, a rear engine design, but the large automaker did not have the capacity to hand build low volume cars, so they embraced Yamaha's proposal, putting Nozaki in charge of the 2000GT's ultimate styling.
Another irony concerning the 2000GT is that it is one of the cars that changed the world's view of Japanese automakers. Until then Toyota, Nissan and the smaller car companies of Japan tended to make unimaginative, practical cars and light trucks, often imitating car makers in other countries. The 2000GT showed that Japan could make an exciting car that rivaled Porsches and Jaguars. However, while the styling of the 2000GT was original, mechanically it was more or less a copy of the Lotus Elan.