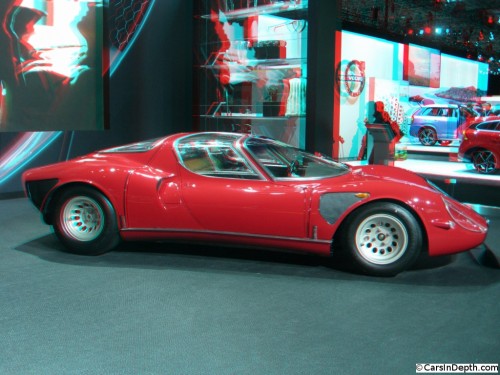 To view the entire photo gallery in 2D or your choice of stereo 3D formats, click here for a Flash player , here for an HTML applet, or here for an HTML5 viewer
Fiat Chrysler Automobiles, which is relaunching the Alfa Romeo brand in North America with the 4C hardtop and spyder. They introduced the 4C Spyder at the Detroit auto show a few months ago and to celebrate the occasion they brought out some historic Alfaa including a Tipo 33 Stradale, which also made an appearance at the Chicago show. At the New York show, there was a slightly different Type 33 on the Alfa stand. It had single headlights whereas the car shown at Detroit and Chicago had dual lamps. I was told by an Alfa representative in New York that that car was a production version while the one on display in Detroit and Chicago was the prototype (or should I say prototipo?). The actual prototype, however, at least according to a German website is in the collection of the Galleria Abarth museum in Japan and the car at the NAIAS and CAS had a plate indicating it came from the official Alfa Romeo museum. Considering that the production details of the Type 33 are a bit murky, the confusion fits.
It turns out that in the late 1970s, Alfa had a magnesium bodied replica of the prototype made for the Alfa Romeo museum and that car, chassis No. 105.33.12, was likely the car on display in Detroit and Chicago. The primary visual differences are the aforementioned headlamps and the fender vents. The prototype's rear fender vent is split whereas the production car has a single large vent, and the production Type 33 also has a vent in the front fender.