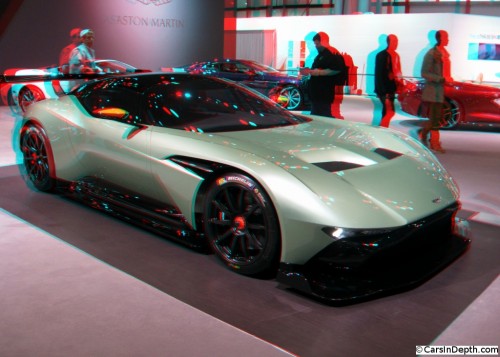 To view the entire photo gallery in 2D or your choice of stereo 3D formats, click here for a Flash player , here for an HTML applet, or here for an HTML5 viewer
Aston Martin didn't even bother to have displays at the Detroit and Chicago auto show. With the amount of money in the New York City area, that's not a market that an upscale automaker can ignore so it's not surprising that, like Maserati, Aston Martin had a large stand at the 2015 New York Auto Show. In addition to examples of each car in Astons lineup, they also brought out a Vulcan. The Vulcan is a carbon fiber, 800 horsepower, $2.33 million track car, first shown at the Geneva auto show a couple of months ago. With the FXX Ferrari proved the business case for extremely exclusive ultra high performance cars that aren't even street legal. The Vulcan follows that playbook.
Just 24 examples will be available worldwide. Much of the Vulcan project is being jobbed out to vendor Multimatic, which has extensive experience working with carbon fiber. Interestingly, Multimatic was recently announce to be the primary vendor for the newly revived Ford GT. The Ford GT's carbon fiber tub and body panels will be made by Multimatic in Ontario, as were the carbon fiber parts for the Aston Martin One 77, an earlier limited production car from A-M so it's likely that the latest car from one of the UK's most iconic brands will also have its origins in Canada.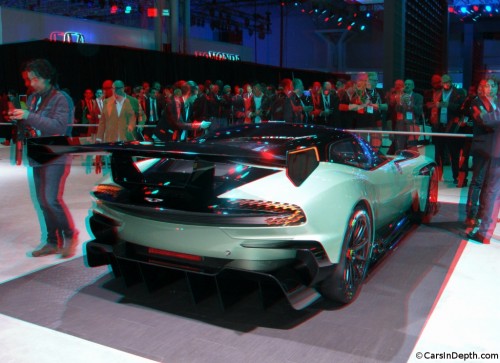 To view the entire photo gallery in 2D or your choice of stereo 3D formats, click here for a Flash player , here for an HTML applet, or here for an HTML5 viewer