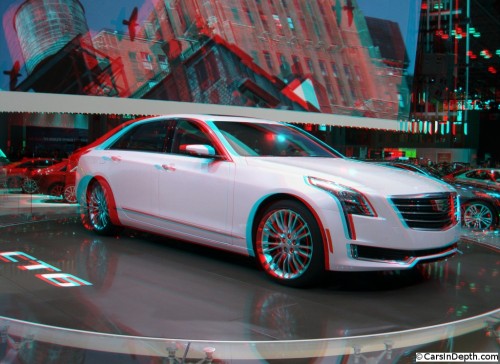 To view the entire photo gallery in 2D or your choice of stereo 3D formats, click here for a Flash player , here for an HTML applet, or here for an HTML5 viewer
The Cadillac CT6 may be the most important new model the brand has introduced in generations, finally deciding to go head to head with flagship sedans from Mercedes-Benz, BMW, Audi and Lexus. Much of the publicity about the new Caddy has stressed the bi-metal structure that combines aluminum stampings and castings with high strength steel panels. The ultimate goal is to make a stiff structure that weighs less. GM is hoping that will result in a car that's dynamically superior to the competiton.
As for the CT6's styling, it's a handsome car, with a long hood and short rear deck. The front end is assertive, you'll know it's a CT6 coming up behind you in your mirrors. Considering, though, all the attention Lincoln got at the New York show with a Continental concept that presages a change in that brand's overall styling, and considering that when you get down to it, the CT6 is just another Art & Science Cadillac, maybe it's time, after more than a decade, that Cadillac get a new look.

Start the YouTube video player. Click on the settings icon in the menu bar to select 2D or your choice of stereo 3D formats
Or maybe not. The greatest expressions of Art & Science have been the Ciel and Elmiraj show cars, as dramatic in their own rights as the new Continental is. If Cadillac is indeed planning a range topping car above the CT6, hopefully inspired by those recent high profile Cadillac concept cars, maybe there's some life yet in Cadillac's current styling DNA.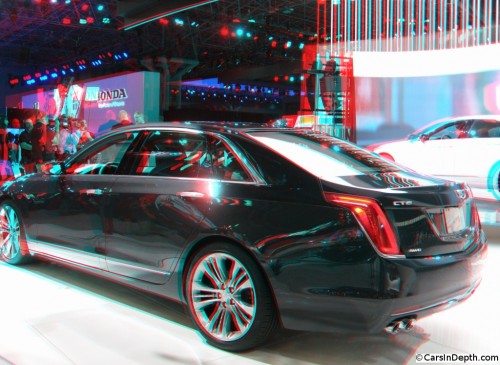 To view the entire photo gallery in 2D or your choice of stereo 3D formats, click here for a Flash player , here for an HTML applet, or here for an HTML5 viewer