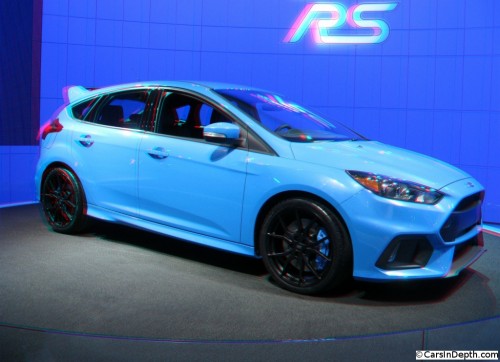 To view the entire photo gallery in 2D or your choice of stereo 3D formats, click here for a Flash player , here for an HTML applet, or here for an HTML5 viewer
For the first time, the hottest version of Ford's compact Focus is going to be coming to America and the car got its public introduction at the New York Auto Show. I meant coming to America literally, as while regular Foci for the North American market are built at the Michigan Assembly Plant outside of Detroit and in Mexico, the Focus RS for the U.S. will be built alongside the European spec Focus RS in Ford's plant in Saarlouis, Germany.
It's got a version of the same 2.3 liter Ecoboost four cylinder that's the base engine in the new Mustang. In the Focus RS it will put out at least 315 hp (with rumors putting the final number as high as 345). That engine will drive all four wheels and the AWD system provides for torque vectoring. It has an adjustable suspension and in addition to featuring launch control, it has a built in drift mode, developed with the input of driftmeister Ken Block.
The all-wheel-drive system is based on twin electronically-controlled clutch packs on each side of the rear drive unit. Not only do they manage the front/rear torque split, they also permit control of side-to-side torque distribution on the rear axle—allowing torque vectoring capability. Considering that it's a FWD based system, it's impressive that a maximum of 70% of the torque can be diverted to the rear axle, with all of that flowing to one wheel if necessary.
Inputs such as steering wheel angle, lateral acceleration, yaw and road speed are evaluated by the AWD system and under cornering the rear drive unit diverts torque to the outer rear wheel. The causes the car to rotate into the turn, giving quicker turn-in, reducing understeer. In addition to revised front knuckles and shorter link arms, suspension wise it has stiffer springs, sway bars and bushings than the already capable Focus ST, adjustable shock absorbers, retuned electrically assisted power steering. The result is a chassis capable of pulling greater than 1 g of lateral acceleration. Brakes are by Brembo.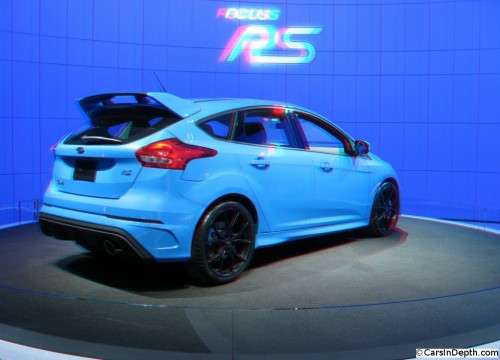 To view the entire photo gallery in 2D or your choice of stereo 3D formats, click here for a Flash player , here for an HTML applet, or here for an HTML5 viewer