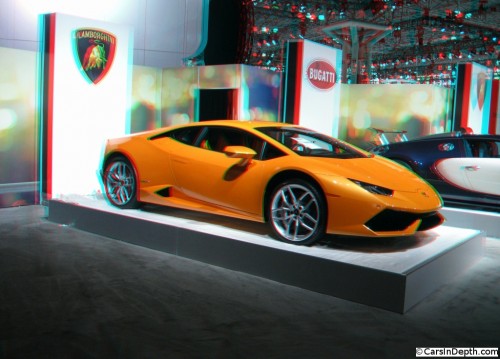 To view the entire photo gallery in 2D or your choice of stereo 3D formats, click here for a Flash player , here for an HTML applet, or here for an HTML5 viewer
My friend and colleague Jack Baruth has written about how the current notion of "luxury" has less to do with quality of craftsmanship, materials and fine details, and more to do with price. How the very fact that today's new bauble will be replaced by something newer and baublier makes it a "luxury" item today, the very disposable nature of the bauble is what makes it a luxury: "Watch me drop a quarter mill on something that depreciates like tulips after a bubble".  That's not to say that a Lamborghini Gallardo isn't an amazing automobile, it's just to say that while enthusiasts may always appreciate what a cool car it is, the red carpet set has moved on to the Gallardo's replacement, the Huracan. A quick check at eBaymotors shows that you can have your choice of Gallardos for about half the ~$240K MSRP of the Huracan, or even less, but per Jack's theory, that's probably driving sales of the Huracan – folks on the red carpet know when you're cheapening out.
Interestingly, the pretty well selling exotic Italian supercar Gallardo has depreciated while the Ford GT, which took a while to sell the full production run, generally can't be touched for less than $100K over the original MSRP.