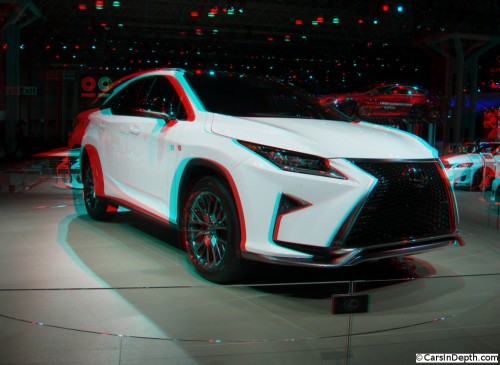 To view the entire photo gallery in 2D or your choice of stereo 3D formats, click here for a Flash player , here for an HTML applet, or here for an HTML5 viewer
Toyota's Lexus brand pretty much created the luxury crossover segment with the first RX 17 years ago, and they sold over 100,000 of them in the U.S. last year. They introduced the next RX at the recent New York Auto Show and while it bristles with technology and comforts with luxury, I'm not quite sure how America's moms will react to the new corporate face of Lexus, what the company calls its "spindle" grille, particularly since the new RX is the most in your face version of it yet. No doubt "spindle" is a reference to Toyota's origins as a maker of weaving looms. Critics, though, say it's more reminiscent of the face of the alien Predator from the movies series of the same name. Frankly, the Lexus nameplate probably means more to the families who buy the RX than the styling so my guess is that the RX will continue to sell in the six figures.
If you note, Lexus designers have embraced Jaguar designer Ian Callum's controversial use of black plastic panels at the Jaguar XJ's C pillars to visually isolate the roof from the lower body.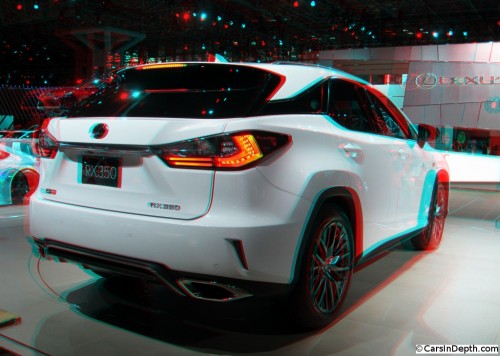 To view the entire photo gallery in 2D or your choice of stereo 3D formats, click here for a Flash player , here for an HTML applet, or here for an HTML5 viewer