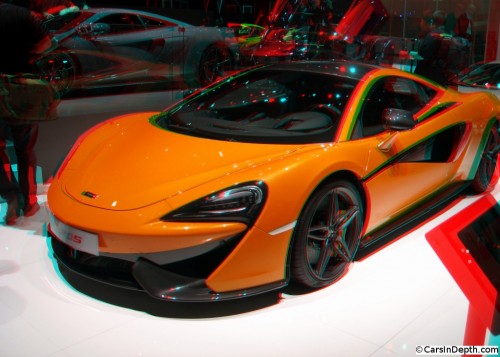 To view the entire photo gallery in 2D or your choice of stereo 3D formats, click here for a Flash player , here for an HTML applet, or here for an HTML5 viewer
The new McLaren 570S is a fabulous looking car. I think it looks better than any of the other McLarens including the uber hybrid P1, which looks a bit insectoid to my eyes. In any case, the 570S and it's less powerful 540S sibling, just introduced at the Shanghai auto show, bring the McLaren brand to a new, lower price point. While the new Sport series cars are the cheapest cars that McLaren will likely sell, they'll be competing with the most expensive Porsches, the venerable 911. While the base 911 costs about $85,000, basic options will put the car over six figures (a common thing with top of the line German cars, a $90K car can quickly escalate to a buck twenty five), and the 911 Turbo starts at $150K, which is what the 540 horsepower 540S costs, and the Porsche isn't made of carbon fiber.

Start the YouTube video player. Click on the settings icon in the menu bar to select 2D or your choice of stereo 3D formats
Until now, Porsche has pretty much had the market space between the Chevy Corvette at the low end, and entry level Ferraris at the high end all to itself. It will be interesting to see how the folks in Zuffenhausen react.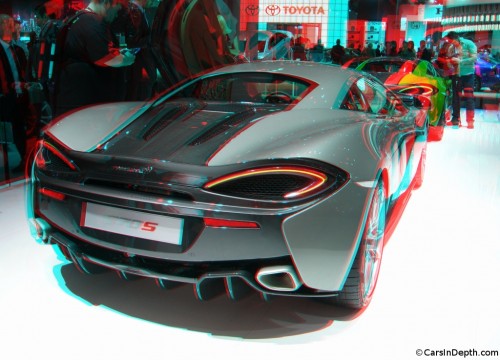 To view the entire photo gallery in 2D or your choice of stereo 3D formats, click here for a Flash player , here for an HTML applet, or here for an HTML5 viewer